This is a great site. =) I have enjoyed reading alot of good posts and seeing so many wonderful pictures of different kittens and cats.
My name is Tara. Since June 22nd, I have gotten 5 different kittens. 3 from the steel mill where my husband works. One through Humane Society/PetSmart/local shelter when the first kitten passed away.
Dazee - the PetSmart kitten. She was 6 or 7 weeks old on June 22nd.
Mazee - came from a farmer who found a stray litter. She was the runt.
Grazee - found wandering a hallway at the company on July 3rd/4th at 1:00am. Her eyes were just opening at that time.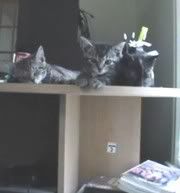 Chance - found stuck in a drain pipe at the steel mill.
They have all been to the vet and things are ok with each of them so far.
Sorry for such a short post at the moment. Getting used to using the forum.
Tara