I have always thought of her as a cow.
#1 reason ... she eats like one.
#2 reason... the dots on her back remind me of a cow!!


She is taking after "King Garfield" drinking water only out of a styro foam cup from the sink. I have to make sure it is filled to the top or they will sit there on the cabinet and meowwwwwwwwwwwww!!

When the styro foam cup gets too old ... they let me know as well. Garfield will knock it over in the sink to pour the water out and then step on the cup. He does this about every 2 weeks!!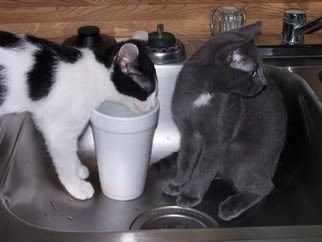 Here is one of Dot playing on "TCS"
And look what I just found behind my computer!!