Quote:
Originally Posted by Roxy_loves_CJ
I love concert band as well. I have had the honor of playing some really cool stuff. Like everyone I have played my share of sousa, and holst, some stuff by granger and holsinger. We played damnation of faust by berliotz, folk dances by shostochovich last year and that was a lot of fun. Great pic part. Marching band and Concert band are really 2 very different monsters though. Something about sitting on a stage with lights on you with a full house there for no other reason than to hear the music that you are about to make. The process is what makes the music so worth it. You hear a song and you think okay yeah its cool. When you spend 45 hours learning it, it has a different meaning for you.
Now marching band during football season is neat because you are playing to 72,000 screaming fans (how much our home stadium holds, not sure about little rock, but it is more fun than fayetteville) on the grass wearing a uniform that signifies a 200 year history of the campus and band program, performing a pregame that has not changed in almost 50 years, knowing that when you are done that you are a part of the tradition. It gives you goosebumps.
Drum corps is the best though because it is such hard work, the music is more difficult, nothing below perfect is accepted, and you know that every competition you go to you have the respect of everyone else because they are a fan or have or will go through it themselves. You know that a set that you work so hard on in practice that will wiz by football fans with out even a nod of approval will get a standing ovation at drum corps.
Not to mention they are all just a blast to be in for nothing else than the friends and the shared expirences.
Here is a pic of the piccolo section at the U of A from 2 years ago. (Here we do not have flutes in marching band, everyone plays piccolo.)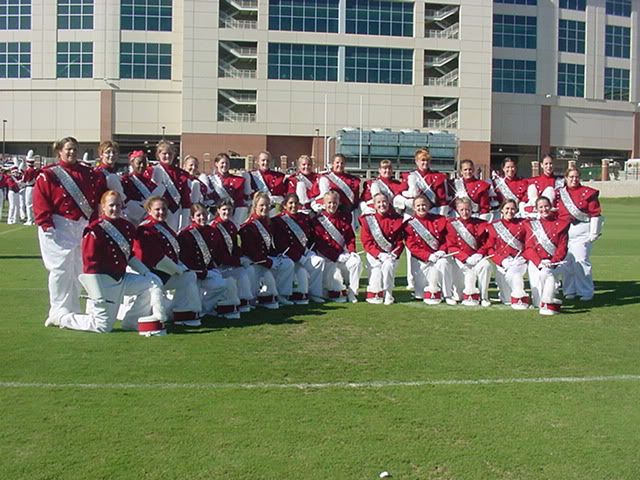 Yeah, I was never patient with the art of marching. It wasn't for me! I really don't have the stamina for band camp or wearing those outfits in 90 degree heat either either...I truly admire anyone who can pull that stuff off. Wow!
But man, there's something competely, 100% moving and almost out-of-body about playing the works of the masters. My proudest moment was the first time I was on stage at Orchestra Hall in Chicago's Symphony Center when I was 17, playing principal picc on Holst's The Planets. I think I knew then that the deal was sealed, even though my summers at Interlochen made me 99% that this is what I want to do. But that night it was settled. I would be a musician.