I have seen so many cute "first photos" when it is a cat's birthday, that I thought I wouldstart a thread.
Here is Abby in January in her pic from the shelter: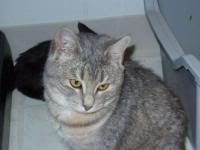 and here she is today - she has doubled in weight!
Let's see your "then and now" shots!