Today we had to put Sienna down. She was a lovely and beautiful cat. She was only 8-9 years old. When we first got her she had a respiratory problem where she always sneezes. It wasnt the easiest thing to deal with having to clean up after her 4-5 times a day (boogers, hehe). Her kidney was deteriorating I guess. some days she would get really sick and then bounce back healthy. I guess her body couldnt handle it anymore. She stopped drinking and eating and her lips were turning yellow. The vet said we could pay 1000s of dollars but it wouldnt help her and she'd still be in pain. So, we had to put her down.
She was the nicest cat ever. She would always wait for other cats to eat before her, she would groom every other cat in the house, if you called her name she would come running up and cuddle with you and she was playful too.
We will miss her so much.
And when I came out of the small room in the vets office crying, I seen a old lady having to put her cat to sleep too. I guess when she seen me crying she started to cry too.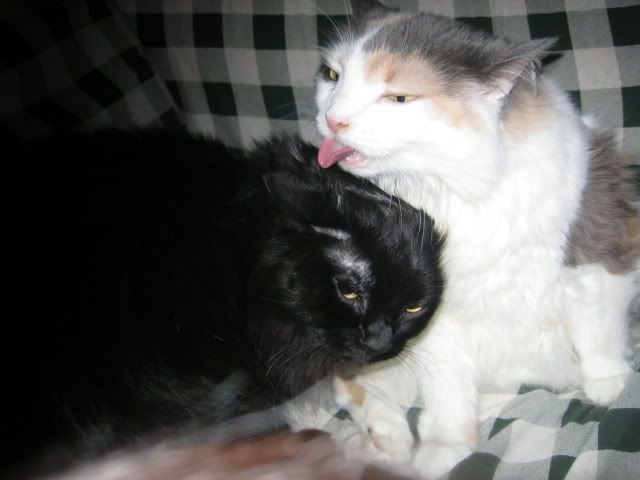 ((Sienna is the white one))
Rest in peace Sienna, you lived a life that was extrordinary. We couldnt have asked for anything better. And this goes to show, even if a cat has a problem and isnt perfect, they can be just as good or even better then any other cat.
Goodbye Sienna.