Welcome back!!
Quote:
Originally Posted by SillyJilly
Awe... what cute babies!!!! I just seem to keep missing you everynight!
Let's see what I can think up for you before you get back on here.... tisk...tisk...risk!
What didn't you like about Brent when you first met him?
I thought he was arrogant, he says he was just shy (yeah, right.)
Are you and your ex-finace' still friends?
No way. He hates me. Oh well, no big loss to me.
When was the last time you had a girls night out?
Been a long time. I went to a candle party last week, does that count?
Have you ever wanted to live somewhere other than MO?
Not really, my whole family lives in St. Louis.
Where was Brent born?
He was born in Chicago, then Carmel Indiana and moved here when he was 14
Do you read the newspaper everyday?
I only read the comics. The rest depresses me.
Have you started to get the baby's room ready?
We picked out the decor, "Barnyard" at Babys'r'us.
Did you guys plan on getting pregnant now?
Yes, we started trying and 2 weeks later I was pregnant. He's got good sperm
Do you cry at sad movies?
Oh yeah, sometimes even at funny ones
Did you go to college?
Yes, but I went to community college for 5 years and never graduated. I took classes that interested me, not ones that went together for a degree.
Have you considered the fact that you may still have a girl even though they said you may have a boy?
Yes, and we would be fine with that.
(they are wrong sometimes)
Would it matter?
Nope
How often do you spend a day just totaly relaxing?
Not often enough, maybe once a month. There's always something going on.
How did Lucy get her nickname, is it how she sits?
No, I'm not sure how she got it. One day we just started calling her Goose, or Goosebutt.
Do you like your job?
Most of the time.
Do you like your co-workers?
Yes
Do you like your boss?
Most of the time. She can be a little bizarre.
What does Brent do?
He does computer support for the Anheuser Busch theme parks
What commercial on TV do you love?
Any cat or Budlight commercial
What do you like about it?
They are usually pretty funny, and cats are cute.
Describe your shower curtain.
We don't have one. We have glass doors that are a pain to keep clean.
What channel is the TV on now? (if off what channel was it left on?)
Food Network
What kind of Milk do you drink?
Chocolate (I hate milk.)
Are you the spitting image of your mother?
Yes. There are pictures of her when she was a teen and they look just like mine when I was a teen.
If not who do you look more like, your mother or father?
Personality-wise I'm just like my father. That's why I'm such a daddy's girl I guess.
What do you like most about yourself?
My ability to listen when people need me to and be easygoing
What do you like least?
I'm too emotional.
Do you and Brent have a wierd tradition? Describe it.
A lot of times instead of going out for special occasions, we like to make appetizers and eat at home and watch t.v. together.
Do you take your prenatal vitamins everyday?
Of course
Were you in any sports in High School?
I was a cheerleader. I also played floor hockey, volleyball, and softball in grade school.
How long did you and Brent date before you moved in together? Before you got married?
We were together about 8 months when we moved in together and about a year when we got engaged. We had a year and a half engagement.
Do you know how to play cribbage?
Nope
Do you own a monolopy game?
No, actually we don't, weird.
How often do you and Brent play board or card games together?
Rarely, we're too competetive.
Post a pic of any of your kitties doing something naughty.
Daisy with a paper towel roll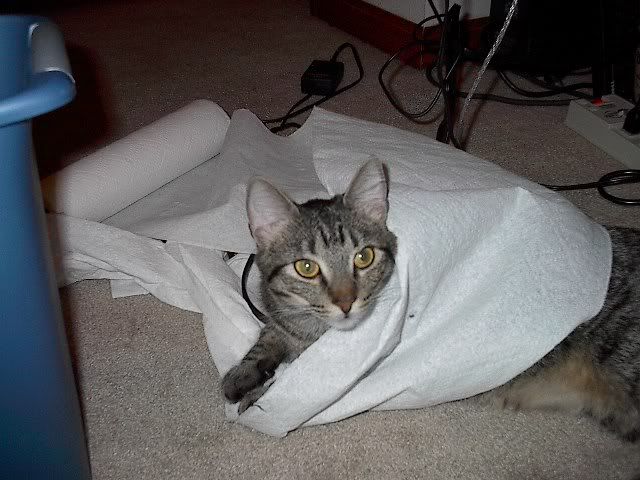 My two lush kitties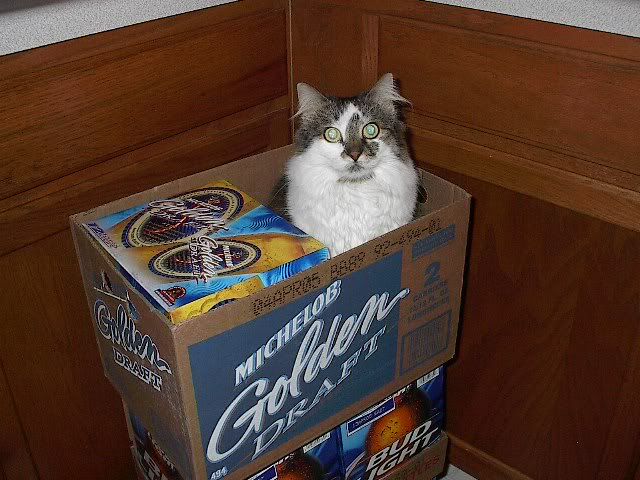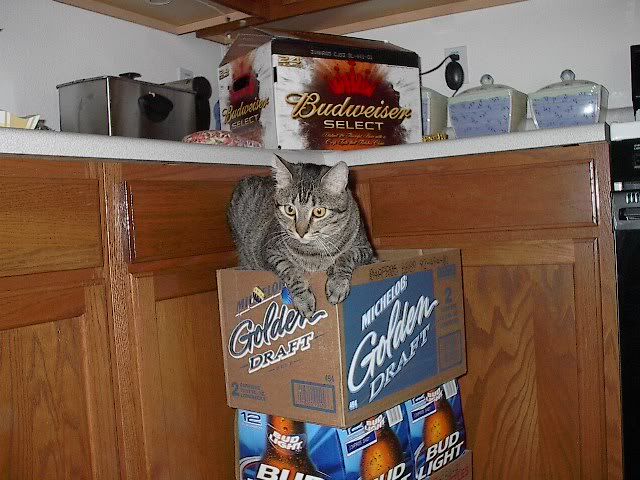 Don't tell Mom, we're not supposed to be up here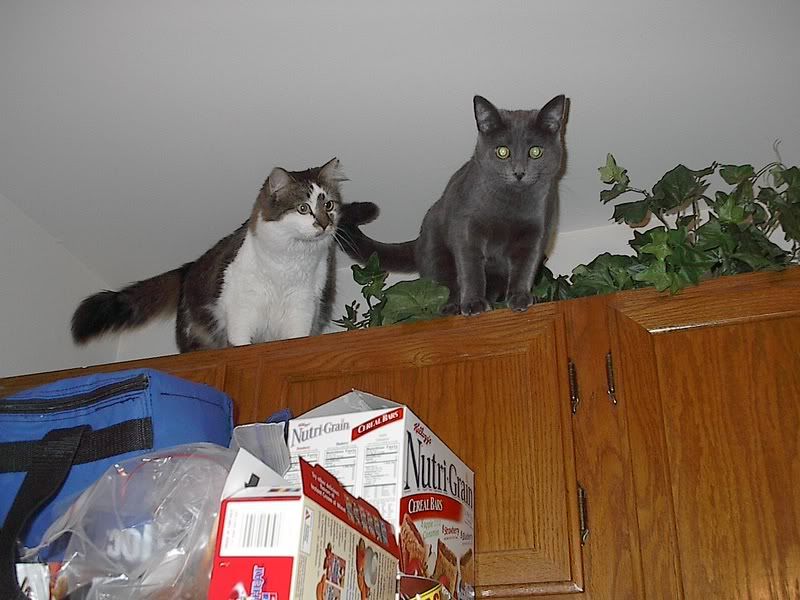 Who is your favorite actor? actress?
Richard Dean Anderson and Reese Witherspoon
If you could, would you ever become President?
Maybe, I wouldn't want to get assassinated after some of the laws I'd pass
Can you still say "Put it where the sun don't shine " on a nude beach?
Oh yeah, the sun don't shine everywhere
What is the best example of "perfection" that you can think of?
A field of tulips
Ok, enough for now!!!!!!
I look forward to your responses.
Thanks, I'll be waiting for more!