Well, today a lady is coming by to see the kittens. She said she might take 2. She said her sons' cat of 10 years just died. And that she is looking for a black and white or a grey and white one. Her cat was an indoor cat only... so I like that about her.
This parting will be especially hard for me and my girls. We have been with them for almost 10 weeks. When Lilo got her abcess (the babies were only 5 weeks old) we nursed them. We have been through alot with these babies.
If we weren't getting ready to move back home (to Louisiana) I would w/o a doubt keep ALL of them!!!
So... I took alot of pics of my babies today. Im not sure which ones this will be my last day with them....
I
them sooo much. How will I get through this??
Petals... my little runt....
Petals trying to figure out how her momma got up there...
Spot....
Dot...
Dot playing peek-a -boo with Petals....
Bonita...
Bonita trying to figure out how Alleaha got in there!!
Chief....
Spicey....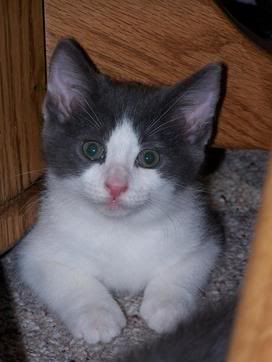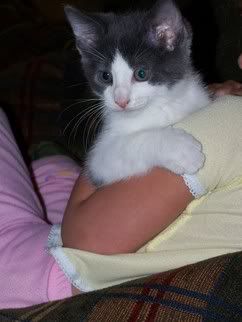 She found the cookies....
Playing with mommas tail...
Lilo...
Trying to catch Spot....
Being SEXY with her still shaved belly....
And with the girls....
These pics were VERY hard to get... those kittens couldn't be still....
So these are my babies minus Garfield, but Im doing a seperate thread on him... for he is VERY photogenic!!
~SARAH~