My feral kitty, MacKinzy, has disappeared.
The last time I saw him on Friday night he looked terrible.
He had lost a lot of weight, had stopped coming to my house to eat, and just had that awful look of death on his face.
I believe he has left this horrible Earth and gone to a better place...The Rainbow Bridge.
I wish him happiness as he is united with all his relatives that he never knew here on Earth.
He is survived by his mother, Mrs. Black and his father, Big Daddy and many brothers and sisters and aunts and uncles and nieces and nephews.
Here is a photo of my sweet boy: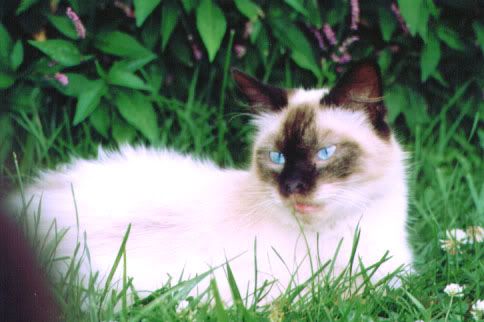 To MacKinzy:
"For you there'll be no more crying...
For you the sun will be shining...
And I love you, I love you, I love you
Like never before...like never before...
And I wish you all the love in the world...
ahhhh...but most of all I wish it from myself..."
Christine McVie(Fleetwood Mac) "Songbird"