My names Kim, and I have 8 cats!! Yea, thats right, its not a typo.
It all started when I moved out of my parents house, a stray tabby around 6 months old walked up to my house and I started feeding it. Well, that led to naming it and loving it and we ended up taking her to the vet and she became an inside cat. Then about a year later one of my friends wanted a kitten so we went and picked one up for her and while I was there I couldn't help myself, so I got one for myself too, a beautiful solid black kitten that was only 6 weeks old!!
Then my fiance at the time said I couldn't have anymore animals in the house. So a year went by and I didn't get anymore cats. Well, I came home one day and there was a gorgeous cat sitting on my steps. She looked to by half siamese with really light coloring and bright blue eyes. So of course the sucker that I am I started feeding her. I never let her in the house, just left the porch door open so she could come out of the weather. She ended up pregnant and I talked my fiance into keeping her healthy at least until the kittens came. Well, the kittens came and I completely fell in love!!
By this time we were married and I sweet talked him into letting me keep them all. Since then we've moved more out into the country atmosphere so he didn't mind because they could all go outside and roam around. But the greatest thing about the kittens, all 5 of them were buys!!! It was amazing luck for us!!
The Tabby is 2 has green eyes and her name is
Momma
- shes fixed
The black one has yellow eyes and is 1 and his name is
Leo
- hes fixed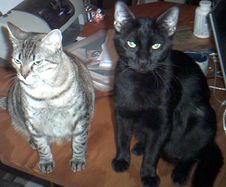 The mommy I have no idea on age and her name is
Violet
- not fixed yet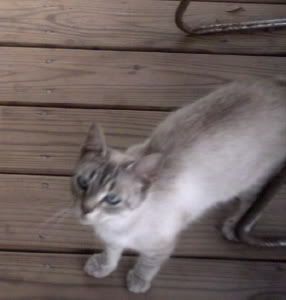 The kittens are 3 months and named -
Ash
(grey with white stripes and greyish eyes),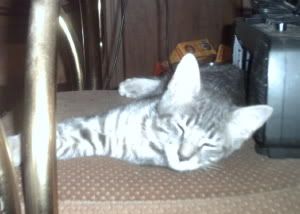 Sky
(looks just like the mom with bright blue eyes)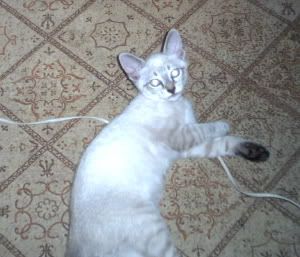 Tiger
(black with white stripes and olive eyes),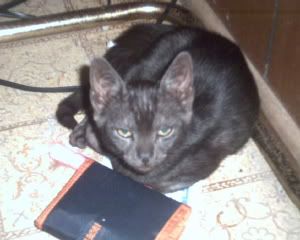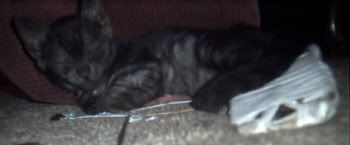 he broke his leg!
Sneekers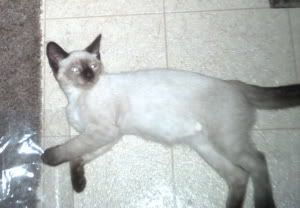 (simese-cream with dark brown coloring and bright blue eyes),
Meowzers
(solid black with green eyes),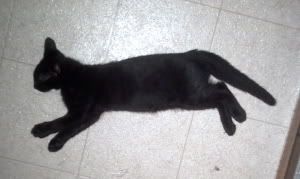 Well, now that I've told you guys my entire kitty life story... I think I'll stop typing.