Hello to all! I'm new to The Cat Site... obviously. I registered to ask a question about my new kitten, but I decided to stick around since this place seems pretty nifty so far...
So, I shall introduce my cats...
Name: Clover
Gender: Female
Birthday: March 17th
Age: Seven Years
Breed: Tabby/Calico/Other Mix
Color: (See Picture)
Clover is very, very shy. You have to spend a lot of time around her to get her to feel comfortable with her. Of course, she loves me since I've been around her since she was a kitten. My dad is spending more time around her now, so she's finally getting used to him. She loves Gonzo (the dog in the picture), but hates my newer dog, Jackson. She enjoys sitting in the sun, looking out the window, playing with toys, getting attention from me, my dad, or Gonzo, and is crazy about catnip. Even though she only likes two people, she's a doll.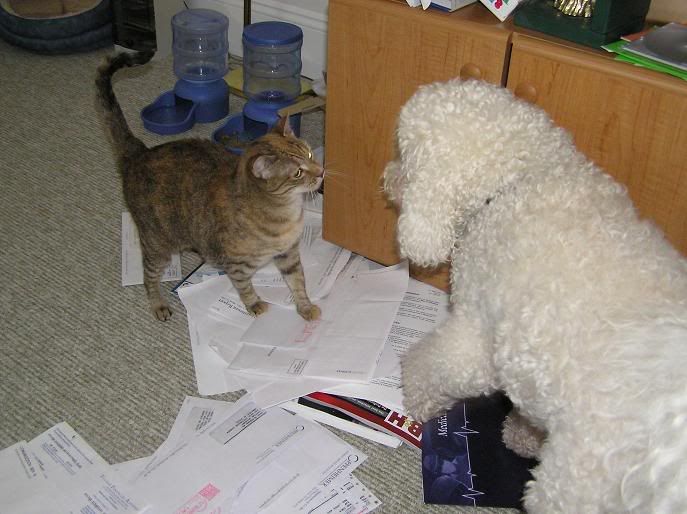 Name: Cricket
Gender: Male
Birthday: April 8th
Age: 10 Weeks
Breed: Tabby Mix
Color: (See Picture)
I've only had him for two weeks, but his personality shows through anything. He's very, very sweet and absolutely LOVES attention. He hates being alone. He loves to play with his toys. He especially likes to stare at my pet rat and bat at the cage! He likes to chase bugs. Yuck! He likes both of my dogs, but sometimes the bigger one is too rough to be around Cricket. When I'm on the computer, he usually sleeps in between my arms while I'm using the keyboard. My hand always falls asleep, though, so I have to move him. When I go to bed, he sleeps on me... whether it be my chest, stomach, side, or even my head! He's as sweet and as adorable as can be. I always have to take, like, fifty pictures just to get one that it's a blur or his tail or a leg or something! He's quick!
Well, I'll see you all around!
-Emily