OKay so here is my story....
I started off with 2 cats....Lilo and Stitch (brother and sister)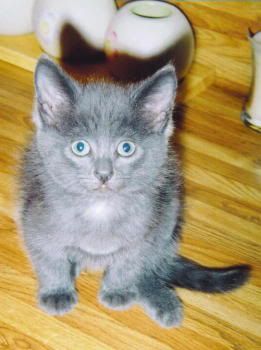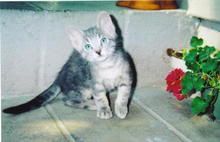 Well Stitch left us early and he is flying with the angels.
Then with only Lilo left and about 8 months later we decided to get Garfield...
Well, we bought him from a pet store and he ended up being VERY sick with COCCIDIA... that we eventually overcame.
Afterwe found out Garfield was sick we also found out Lilo was expecting. I was happy but also overcome with lots of mixed emotions because I had already spent so much money getting Garfield better. And Lilo was already 6 weeks along. Then she got sick. Lots of loose stool. She ignored me.Well it was safe to say she hated me.
Then 3 weeks later she gave me these....
I was ecstatic!!!!
Then I had to go out of town for over a week while my husband took care of them all. On my 6th day away he called me and told me he thought Lilo missed me b/c she was acting sad.
When I got home I looked for her in her room (our storage room) and I finally found her hiding from her screaming kittens. She looked so sad. I felt her and she felt like she was cooking. I rushed her to the vets and they checked her temp. which was 106. They turned her over and under her right top boobie was an abcess. They opened it and they as well as myself were stunned at what and how much came out. It was unreal. The vet told me he couldnt began to guess how many ounces of puss came out of that itty bitty abcess. I just sat there and cried.
I felt like I had failed her somehow. He told me with that high temp. that all of her milk was dried up. So at almost 4 weeks old I seperated my furbabies from their momma and started to try and bottle feed them. They didnt take to it at all. They would take milk out of a medicine syringe though.
I have been going nuts these past few days trying to make sure they are healthy. They FINALLY got down the eating food thing!
And man do they
that wet food. NOw that Lilo is feeling better......
I put her babies back in the room with her. She started cleaning them and loving on them. She missed them so much. So now they have been reunited with their mommy and I want to share some pics of them eating with yall.
I am so happy with the way things are going now.
My vet actually joked with me the other day he said "Sarah, if you dont stop having so much fun with these cats (meaning just the opposite b/c I have been in and out of the vet with them for a couple of months) we are gonna take them from you.
But all jokes aside... I
my babies. We have been through a rough couple of months together but they are all on their way to being as healthy as healthy can be.