Little Bandit crossed the bridge this weekend to catnip heaven.
Unfortunately, little Bandit had either distemper or panluke and did not survive. I am comforted in the fact that for the two weeks since little Bandit was rescued and joined us, we gave him the absolute best love we could. He was cuddled, he was warm, he was well fed and he was loved dearly.
Now little Bandit is playing with Eve and all of the other special kitties in Catnip Heaven.
Bandit (born approx April 27, died May 29 2005)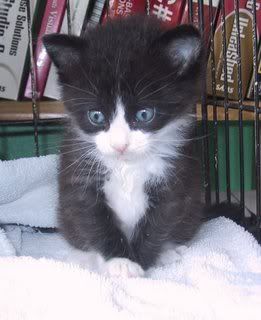 Sweet Dreams precious baby