I've been reading as many threads as I can about determining play fighting vs. real fighting. I want to make sure I understand this correctly, so please let me know if I've got this right.
It's okay to let them go until: major growling or hissing occurs during the tussle; someone is crying out; if blood is drawn; someone gets hurt; fur starts flying; they continue to posture.
Here are some of the threads I found helpful:
Link 1
;
Link 2
;
Link 3
;
Link 4
;
We have two kittens. They are both 6 months old; both are spayed and are about the same size. Iris, the newer kitten, has always been around other cats, while Chloe, our resident kitten, has been an only cat for the last 4 months. Iris was given a clean bill of health by our vet and Chloe has been healthy. Thanks to the advice on TCS the introduction went pretty well. We have 2 Feliway infusers going in our apartment. Chloe pretty much stopped hissing 3 or 4 days after their face-to-face introduction. Over the last week or so they have been chasing each other around the apartment, both apparently enjoying it. They can walk by each other with no problem; sometimes a light swat or just a sniff. Often times they are in the same room with the other and lay within relatively close proximity. Chloe's still a little defensive at times, but overall they've been doing well.
Based on the progress they've made my DH and I planned to let them be together unsupervised while we are at work, starting next week. Then yesterday we saw Iris and Chloe wrestle. (A little stalking; arms around each other; biting; rolling around; rabbit kicking; not a lot of noise.) I was concerned at first, but we determined that it appeared to be harmless. We guessed they reached the stage where they are trying to establish who the alpha is. (We're thinking it's going to be Iris.) We ended up breaking them up once last night when the usually-cool Iris started to flatten her ears back before they tussled again. Within 5-10 minutes of separating them they were pushing their paws through the door at each other, so we let them back out together. They wrestled a few more times last night, but mostly they went back to chasing each other or snoozing. (They do not sleep together. Prior to yesterday they didn't touch much except to touch noses or sniff each other.)
This morning they started tussling again and I let it go until Iris started to meow (not quite yowling) before they went at it. (It happened a couple of times before I separated them.) It looks pretty aggressive, but neither has injured the other. I separated them for about 45 minutes. They've been fine so far. In fact, I just snapped this picture: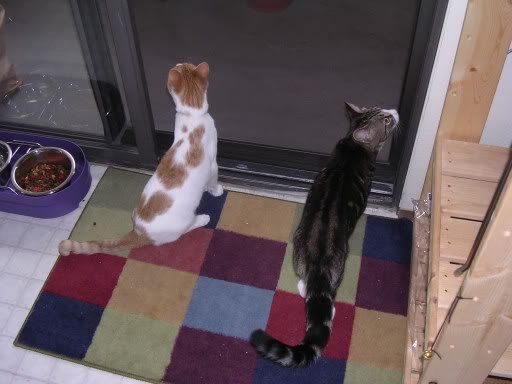 I don't want to interrupt the natural process of them establishing a hierarchy; however, if they are truly fighting I don't want to let them just 'battle it out'. Does it seem like I have an understanding on when their behavior has crossed the line into fighting? Any suggestions or input? Thanks.