I gotta tell you guys a funny story that just happened. I've told Susan about these Canadian geese that we have that live out in the big yard here at work. There is a pond next door. Well, since they've had their babies, they're a little more aggresive or maybe I should say more protective than normal. Usually you can walk past them and they waddle away from you. Well, I had to go out to my car a few minutes ago to get my keys to lock up the building when I leave, and like anyother time walked out the door. The goose family was grazing near the sidewalk, so I kind of veered off to the side a little. I just love seeing the babies, so I oohed and awwed over them, telling the parents what a beautiful little family they have. Well, the B******* came flying at me, hissing and flapping it's wings! Below isn't an actual pic but one very similiar as to what I saw coming at me!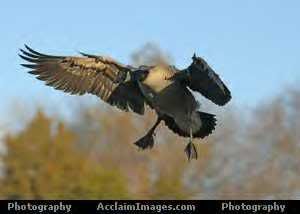 Well, being the brave person that I am, I go running, waving my arms at them to leave me alone. (Did I scream? Ummm, nawww
)
I made it to my car, but then was afraid to come back! I called Debi here from my cellphone in my car and told her what happened, and she came out and tried to scare them away from the door!
It finally worked! I should have just drove on home!