Hello!! Help!! - From China
offline
3 Posts. Joined 5/2005
Location: CHINA
offline
8,067 Posts. Joined 9/2001
Location: Somewhere in Georgia
Knock it off

offline
8,510 Posts. Joined 12/2004
Location: Somewhere over the Rainbow
Welcome to TCS, enjoy all the great help and people here
"Meow", means NOW!

offline
36,895 Posts. Joined 3/2004
Location: The "Dark Side of the Moon"
Hi & Welcome to TCS!!!!
Black Cat Addict

offline
2,298 Posts. Joined 12/2003
Location: NVA, USA
Hello! Welcome! Is there something you needed help on?
Remembering Hope

offline
36,193 Posts. Joined 4/2003
Location: Wellington City, NZ
Welcome to TCS! Do you need any help?
offline
11,661 Posts. Joined 12/2004
Location: Dade County, FL
Hi
welcome to the site.
Sierra & Serenity's Mommy

offline
18,640 Posts. Joined 2/2004
Location: Loving my beautiful baby girl
Hi, Sierra and I welcome you to TCS!
So glad you've joined us and look forward to getting to know you better!
How may we help you? I would be so happy to help you in any way as you learn your way around the site. Please, simply click on my user name and send me a Private Message!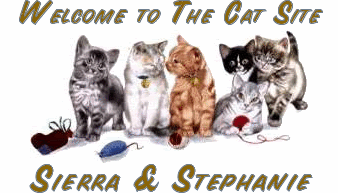 Subliminal Cat

offline
10,343 Posts. Joined 12/2003
Location: NJ
Hello and welcome!!
Lynsey Lou

offline
977 Posts. Joined 5/2005
Location: England
You will love it here, everyones so great