Hello!!!!!


I'm Trish and I am the proud mommy of two FABULOUS cats - Mousse and 'Nilla. Mousse was rescued by me off the streets of Queens, NY when he was abandonded by his mom and his litter mates were "kittynapped". He was 4 weeks old when he came home with me to be spoiled for the rest of his life. He is a quirky cat and thought he was a dog until we adopted 'Nilla. (He grew up with my parents' Husky and Pit Bull and was TOP DOG there!) He is now a big fat happy spoiled cat - like ALL cats should be!

'Nilla came to live with us in December. She was found wandering the street and walked up to the manager of Petco while he was outside his house putting up Christmas lights. He had 12 cats already and brought her into work, where she was kept in a cage for over a month in an upstairs office until I came looking for a cat one day and took her home with me. She is now a happy spoiled kitty.

I found the Cat Site through Katie, by way of Petfinder. I was asking for advice/help with a litter of stray kittens outside my apartment that I wanted to TNR and Katie led me to Sue and to the Cat Site.

The 2 kittens and 4 cats are on their way to being fixed and the momma kitty and kittens will hopefully be in their forever homes by next weekend and daddy kitty is hopefully going to a cat refuge. The other 2 cats are more feral and are going to be TNRed.

I am really glad to be a member of the Cat Site, as cats are my ultimate favorite subject! I think my friends are sick of me telling them about the kitties outside and of course my furbabies too.


Here are some pictures of my gang:

Momma kitty and one of her babies: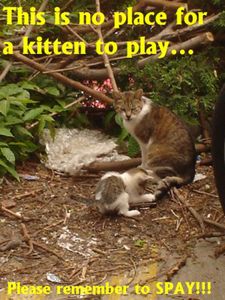 Daddy kitty and the kittens: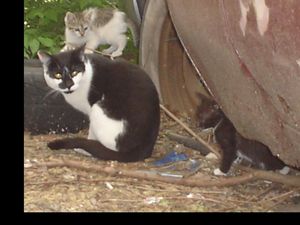 This is our cute kitty Mousse: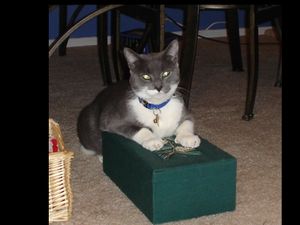 This is our pretty kitty 'Nilla: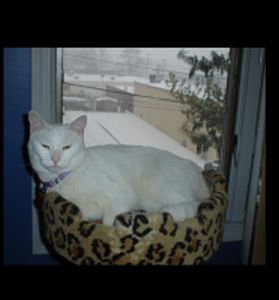 and this is Mousse and 'Nilla: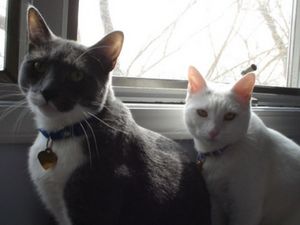 Hope to talk to you all more about CATS!

Regards,
Trish