They're all doing great - 'cept Tuxie, who's doing OK. He's hangin' in there, anyway. Flowerbelle is just as cute as ever. Spooky has turned into a total love bug. Shelly's as kooky as ever, and Lazlo has FINALLY become completely comfortable in the new home. He's just as stoic and "gentlemanly" as ever. Still looks like our "baby feral boy." Ming Loy is - well - she's into everything, everyone, and just trots around happy as a lark.
Can you believe Spook, Tux, Laz and Shel are turning three around now? And Flowerbelle's going to be two soon (not really sure when). And Ming Loy will be one in July?
Let's start with the youngest - chubby Ming Loy. In typical form - stretching on the floor (she has a neurological disorder that has handicapped her back legs. She tries to stretch like a normal cat, but unless she's leaning on something or someone, she just falls over....
)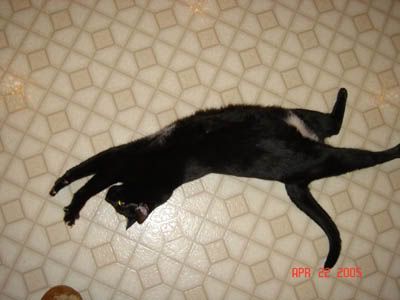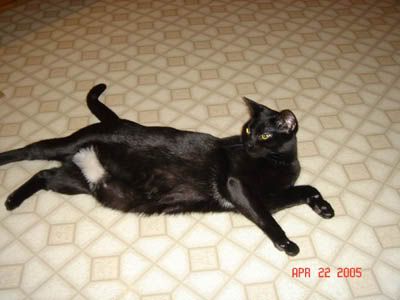 ...and in typical form - grabbing at the camera handle thingy....