I recently moved into my own place, and the girl who used to live next door used to feed a shy little grey puddy tat whom she called Midnight, because he (we think) would turn up at all hours of the night wanting food. At first he would come nowhere near me, as he didnt know me, but after she left i would feed him, and we became quite close, and I secretly think him as mine. I think he lives next door, the boys there had many cats but they killed most of them
. There are 2 others as well, a halloween cat (black & ginger) and a black and white cat, they are a little feral because they will come to my doorstep, but nowhere near me, but im trying with them, hehe. Anyway, Midnight, or Middy as I call him, knows me now and he LOVES cuddles. I took this picture last night while he FINALLY lay still on my (extremly ugly) couch...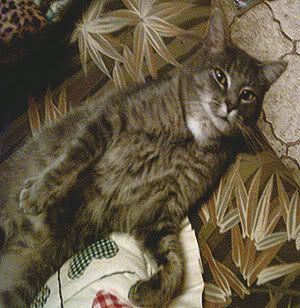 his ears are yucky and messed up from what i think was a cat fight but...
isn't he just precious?