hi everyone,
just wanted to introduce myself. i've already received some great advice in the behavior forum about my kitten, mamie, but i thought i should come in here and properly say hello!
i'm sarah, 27, in library school. i live in western massachusetts. i've lived with family cats my whole life, but this is the first time i've had a cat of my very own. and i love her SO much more than i ever thought possible.
mamie is almost 7 months old. i got her from a shelter at 8 weeks. she is a tortie/white shorthair mix, born to a feral mother. she's incredibly active, and she likes to be upside-down. she's got the cutest face in the whole world. [edited to add: she's also polydactyl.]
here's one of my favorite recent pictures of her: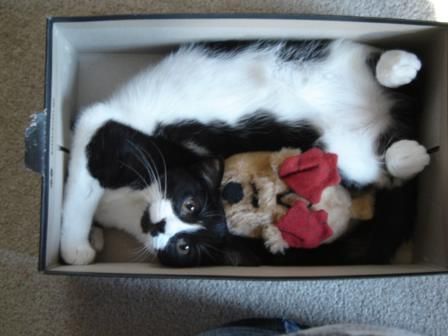 this is a wonderful site and a great resource, and i'm looking forward to learning more!
sarah