Hello, my name's Arden, and I am a complete cat nut. So nutty that although I'm allergic, we have seven cats right now: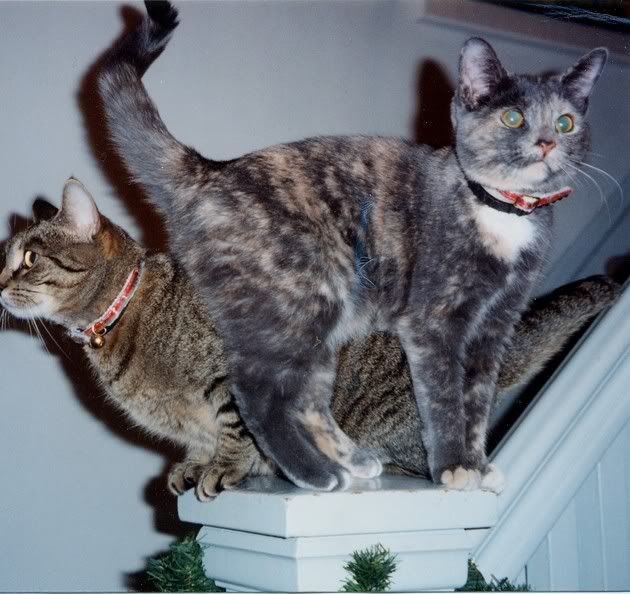 The old girls - Tyger (in the background)is my oldest, she's 11 years old, and was the best natured kitten ever. She let me dress her up in doll's clothes, and drag her around the house (I was seven years old at the time).
Smu/Smudge (in the foreground) is 9 years old, and is my darling. I'm her favourite, and she loves me, although not as much as I love her. She gets upset if I go away, or ignore her for a few days.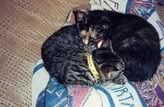 The twins - Kichi and Kagami, both 5, are sisters, although they look nothing like eachother, their only similarity is that they're both missing some screws, which is partly why we love them so much. We got them as kittens as well, thinking that maybe if we got them at the same time that they'd keep eachother better company and be better playmates (we knew better, but it was a good excuse!)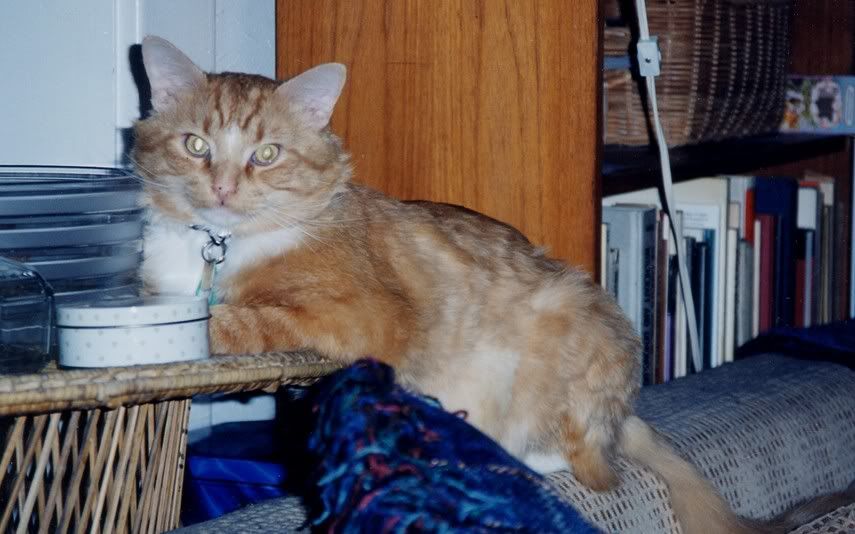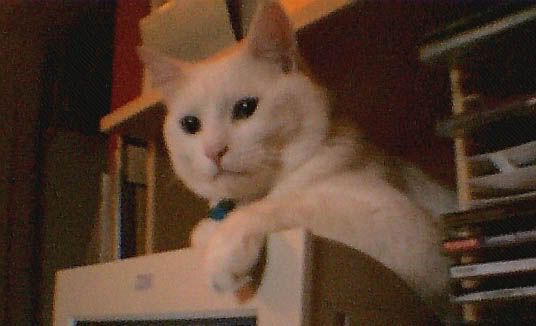 The boys-Erik is a 4 year old medium haired orange tabby who happens to be the absolute friendliest cat in the universe. He showed up on our back porch nearly 2 years ago today. He's a big pain sometimes because he won't leave us alone, but he's impossible not to adore. Ziggy is our other stray, who showed up only 2 months after Erik on our back porch. He is a beautiful, even tempered cat who loves belly rubs and raisins (if you ever want comedy watch a cat try to eat a raisin). We figure he's just under 5 years old.
Finally, our latest addition, Mimi, of whom I have no pictures yet, is a 9 year old black cat with a truly foul temper. We took her in after a friend of ours had a baby who was born allergic to cats. She was an only cat all her life, and is refusing to adjust to other cats. She lives in my room, and has since mid-october, which has been a thorn in poor Smudge's side. Every night before I go to bed, she warms up and gets a good long cuddle, before she flips out and savages me.
As you can tell, I could keep going on and on and on, but I'll force myself to stop, because this message is already outrageously long