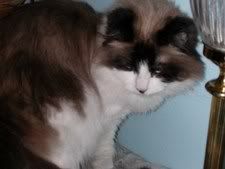 The little angel above is in need of a new home. My family has owned her for about two and a half years now, and it breaks our hearts to have to get rid of her. We have five other rescue cats as well (she was found in our yard) and she has not learned to get along with them. She spent time alone in bedrooms, but was not happy at all. We let her out with the other cats, it has been about a year now, and she still hides from them. It seems no matter what we try, she will never get along with them. The time has come to do the one thing we have dreaded most...find a new home for her. We want to keep her badly, but it is no longer an option. It is not fair to keep a cat living in one room, or being scared to death her entire life =/
We have named her Luna, and she is around 3-4 years old now. She has baby blue eyes (you can't see in the pic, she wouldn't open her eyes). She is a little angel who loves to snuggle into bed with someone at night, and is always there to greet you in the morning. Her life revolves around pleasing her human companions. She has a raccoon mask and a personality to match smile. She would do well with children or elderly. She is wonderful with children. My neice gets a little rough with her at times, and does not even growl.
Unforutnatly she is very timd and does not get along well with other cats or dogs.
So she must be an only cat.
She is spayed and declawed, and up to date on all shots. Vet records will be provided if requested. My family just wants to see her happy once again. Please either post or email me at:
rmv1983@hotmail.com
if intrested.

Please note she will go to an approved home only.
She is a member of our family, and will not be given to just anyone. We are not asking for money for her, just that someone who will love her as much as we do will take care of her. And keep in touch with us on how she is doing.
-Sakura