I'm Twila.
I have 3 cats. 1 purebred and 2 DSH's
Butch (I didn't name him!)
Is 13yrs old and a Turkey..ehm Turkish Angora. He adopted me during a tenancy with his previous person. He spent 8 yrs living outside before adopting me. He no longers goes outside. He's discovered the joys of permanent warmth, hard (not soggy) food, and the wonders of a soft comfy couch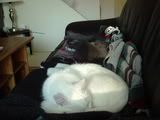 Bana
is 2 yrs old. She came to live with us as a foster at the age of 4months. We adopted her as soon as we realized that our old guy, Butch really liked her! She was born outside and didn't trust us right away. She's still skittish, but very very affectionate. She doesn't tolerate being pet unless she can groom you too. She's adopted my 13yrs old daughter as her special human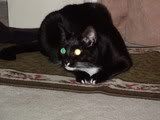 Chunkey
is almost 2 yrs old. She too was a foster also born feral. She came to us at 4 month of age or so. She is about half Bana's size but completely healthy. We jokingly call her a purebred Ittybittykitty. 1 of a kind! She's come around very well. Follows me around the house and has taken over the duties of "alarm clock". She starts purring at about 6:30 am everymorning. And doesn't stop until I'm up.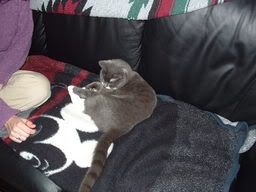 I'm looking forward to getting to know you all. And to hear your cat stories.....