Hi Stephanie!
Another question referencing a previous statment, Sarah!
What are Haribo sweets?
Haribo is the brand of the sweets, they do things like Golden Bears, Cola Bottles, Star Mix etc. Most are types of gelly sweets and very yummy!
(Haribo is also connected with Maoam and Pez)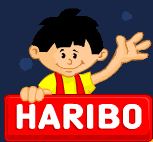 This is the little guy who is the logo!

Some of the sweets!
and their
website!
I hope that made some sense!