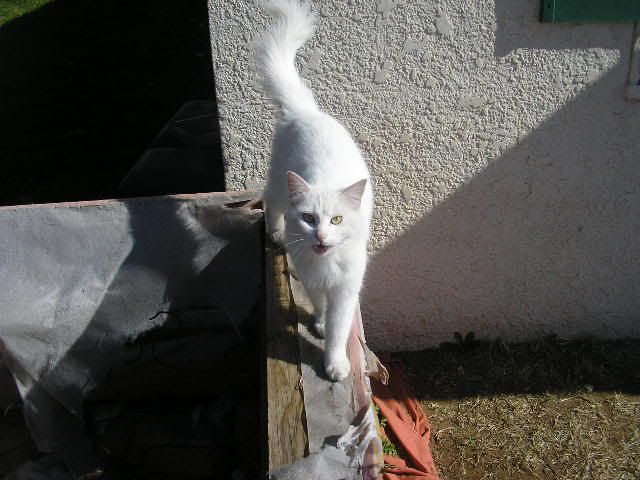 Here is an update photo of a stray I care for, I would like to call her an abandon child. She has lost some weight from december and she is being mauled to peices all the time by 2 wandering males(intact).
I see her all the time with bite woundes to the neck. Poor girl. she gets to come in on cold nights, she get what ever food we can give her, sometimes she get a left over small chicken, any leftover food we have from supper we give her.
She is our so called "Walking Buddy". When we go for walks she follows us, staying maybe less than half a block away at a time while running ahead and flopping down in the dirt tryn to make a "Hey Look How cute I am" secene.
I had one lady ask if she was on a leash, since she was walking along side us. I smiled and said "She is a stray I care for that likes to walk with us." I am wanting to trap the males who attack her , but they actually belonge to someone. SO I doubt that wull go over well with the owner of that cat.
Oh She is fixed, he origenal owners abandon her after moving from the block. So I was told by a guy.
Ashley