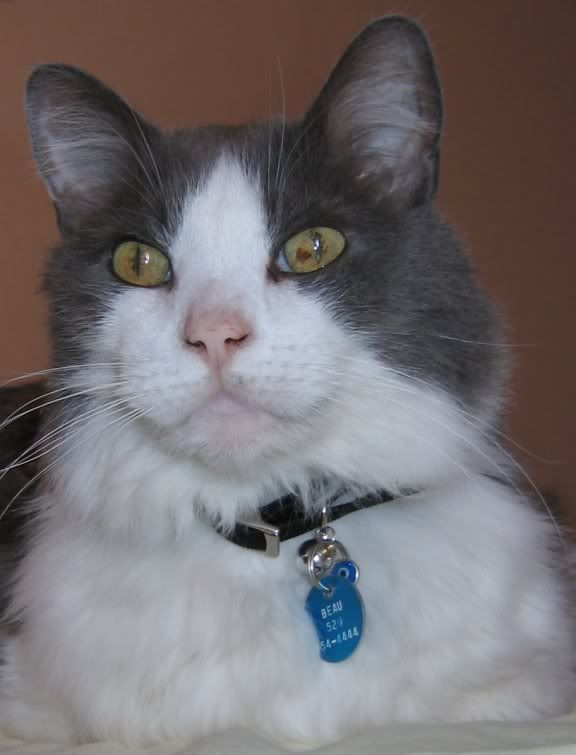 This is a photo of my cat Beau....I learned how to do remote posting and opened up a photobucket account just today so that all of you could see how magnificent he is. Beau has been with me for 14 1/2 years, and is my soul-mate. The day I met him I went with the person who was then my partner to look at some new kittens up for adoption, in order to help a couple friends of ours pick out their kitten. All the way there I told my partner over and over: "Now, we have already a dog and two cats and several snakes, a tank of turtles, and cages filled with rats. We do NOT need another cat. I don't care how cute those kittens are, we are not taking one home!" Then we walked in the door and I saw Beau. They had to scoop me up off the floor with a big spoon. I have never in my life seen anything even nearly as cute as he was. It was total, pure, complete, and unconditional forever love at first sight. Only time that ever happened to me. Well, he was spoken for, but a week later the person had not come to get him and they asked me if I wanted him and he has been my closest companion ever since. I have been blessed immeasureably by his presence in my life, and am more grateful than I could ever express that I have been able to have him in my life to love so much as I do.
Beau is large, has been between 14 and 16 lb all his adult life, and is polydactyl. He has 7 toes on both front feet and 5 on one back foot. He struts his way into rooms and knows that he is the head of the household. He sleeps with me under the covers at night when it is winter time and at the foot of the bed in the summer heat. He is the King Of Mellow and can be held upside down - in fact he loves it. He lets me trim his claws, brush his teeth, or do anything that I need to do with him because he trusts me so much, and I honor that trust. He has been treated only with the utmost respect and kindness his whole life. And he and I have worked out such a fine relationship: we both try never to do things that annoy the other, and we both try to do the things the other one likes. It is beautiful for both of us, I think, but certainly I can say it is for me.
Beau now has been diagnosed with the beginning stages of kidney failure and I am desperately trying to learn all that I can in order to do the best I can for him to prolong his life and maintain high quality of life for him. He shows no symptoms yet - it just showed up in blood and urine tests. I am trying to educate myself about it and am posting in the "Health" section.
Everyone who meets Beau realises what a special being he is. He is the greatest light in my life, and my greatest spiritual teacher, reminding me always to live in the moment, to appreciate the sunbeams, and never to be too busy to stop and pet the cat on his belly. I know that I will lose him but cannot bear the thought and want to make that time as far from now as possible. I found this site because I was searching for help and support all over the 'net when the diagnosis came in.
I am so glad I found this forum and want to say thanks to all of you for being here.
Best wishes to all.....
D'Elle and Beau