You guys are going to laugh at this..........
So john and I have been going out for 6 years on January 15th...He was my first love, and I was his...We have a wonderful relationship...and basically act like a married couple...We plan on getting married...Our date was November 2005..But money has been so tight lately that we decided it would probably have to wait till 2006.......ok but heres the funny part......
I was always under the misconception that if you live with a person for 7 years you are concidered Common law husband/wife.....John and I have only been living together for 5 years.....
Anyhoo I was just watching a "Who's The Boss"...and Angela and Tony found out that they were married because they went into a common law state and possed as man and wife....I was intrigued so I decided to look it up.....I found out that the whole 7 year thing is a myth!!! I also found out there is only 16 states that recognize common law marriges..Massachusettes NOT being one of them...Then I read that even if you live in a state that doesnt have common law marrige..If you go to a common law state and play off that you are married....i.e. call eachother man and wife..check into hotels under same name...ect..you are infact legally married!!!!!!!!! A marrige that is recognized in a non common law state like massachusetts.
John and I went to Rhode Island a year ago and thought it would be fun to check into a hotel as man and wife..Rhode Island IS a common law state..We are infact leagally married!!!!!!! How funny is that????...If we broke up we would have to get a divorce....Heck were supposed to be doing joint taxes....I am so ammused..If John didnt have the ability to sleep through a bomb I would wake him up right now and tell him...LOL......
So I guess you can all refer to me from now on as Mrs. Bridget Crawford...
...heres a site about it if youre interested
http://www.unmarried.org/common.html
Heres john and I in highschool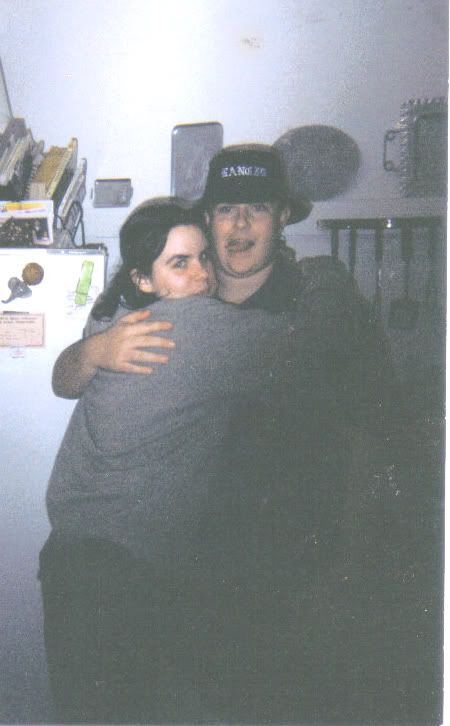 Heres a more recent pic of my beautiful "Husband"..lol