Love is in the air.
offline
XXXXXXXXXXXXXXXXXXXXXXXXXXXXXXXXXXXXXXXXXXXXXXXXXXXXXXXXXXXX
Just another Duh Moment!

offline
3,956 Posts. Joined 5/2003
Location: So far out in left field I got lost
Awwwww
Snuggle babies
offline
2,168 Posts. Joined 12/2004
Location: Georgia, US
I was wondering what was going to be on this thread! Look at those ginger fluffballs! How sweet!
offline
11,661 Posts. Joined 12/2004
Location: Dade County, FL
Aww they are so adorable!
Gardens of Time fan

offline
12,065 Posts. Joined 10/2003
Location: W/ the best cats
Good grief! Get a room you two!
Crazy Canadian Cats

offline
2,341 Posts. Joined 12/2004
Location: Alberta, Canada
That's some fur there! Snuggle kitties are the best!
Around... somewhere..

offline
6,776 Posts. Joined 12/2004
Location: Texas
Aw, what a big ball of fluff!
I'm glad they're hitting it off... that's great - you must be so happy!
Moderator/Admin

offline
54,343 Posts. Joined 12/2003
Location: ENGLAND... LAND OF HOPE AND GLORY!
Awwwww a pair of snuggle bugs!
Sleep? what is sleep?

offline
9,617 Posts. Joined 7/2003
Location: Melbourne, Australia
so glad to hear they are getting along
great photo!!!
....

offline
2,794 Posts. Joined 12/2004
Location: Alabama
The looks so happy all snuglled together.
offline
229 Posts. Joined 12/2004
Location: Ny
Ahhh... That is way too sweet for words
Gray Cat Addict

offline
7,665 Posts. Joined 6/2003
Location: Bay Area, CA
Too cute!! Two big balls of lovey fluff
It's a rare (very rare) occasion when Zoey & Saki cuddle!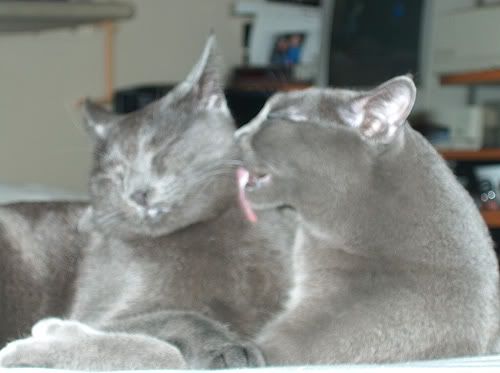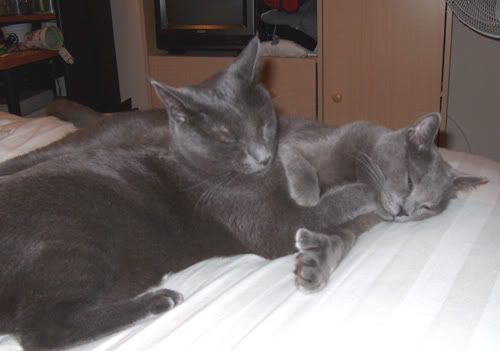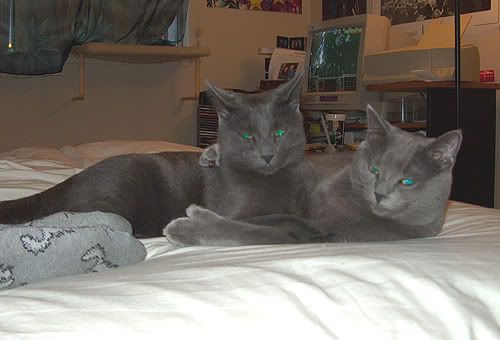 offline
891 Posts. Joined 6/2004
Location: Toronto
Awwww, what a sweet picture!
They're adorable!