Guess what kitts?
You know how my Meowmy Sam stopped showing me for awhile? She decided not to show me again until I was a cat! Well I am ten months old now, and went to my first show as a cat! GUESS WHAT!
I won first prize, TWICE!
Both Meowmy Sam AND the judges said I was absolutely beautiful! Beautiful coat, beautiful markings, strong solid boning, good short body, nicely balanced with the tail and body. Good strong head, big round eyes of a beautiful colour, nice doming, good short nose and break. Oh the list goes on! But we knew it all along eh kitties?
Meowmy Sam is so happy with me! I won so many prizes - including this really flash lamp!
Here is a photo of me from the other day(Meowmy Sam didn't take her camera to the show!)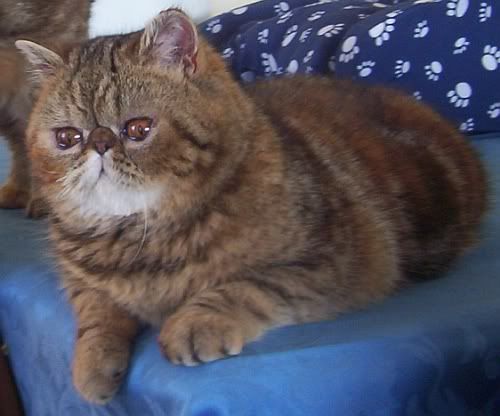 OOOPS and I forgot to say Meowmy Sam won a breeders award of merit for me AND my full name is now CHAMPION Captivating Bridget Jones!
Also remember my cousin Shookie(now called Lyger) he won two best in shows in his section too!
Thanks for reading,
Bridgey