Quote:
Originally Posted by
lmunsie
She doesn't seem gassy, and she had the classic shelter problem,. where she ate whatever they had handy, and apparently not much of it. We have her on orijens (only has had one meal so far) and are going to supplement it with a homemade groundbeef, rice, pasta, veggie dogfood I've always made for my dogs.
Sounds good....the breath could be just from the food she was eating and once she's eating orijen regularly you may find the breath issue goes away... Maybe she got a little cheap canned at the shelter and that is the problem.
But yah, definately grab some oral supplies.... the longrun benefits are
Quote:
Here is her side profile, and keep in mind, she has NO muscle and is really underweight! Let me know what you think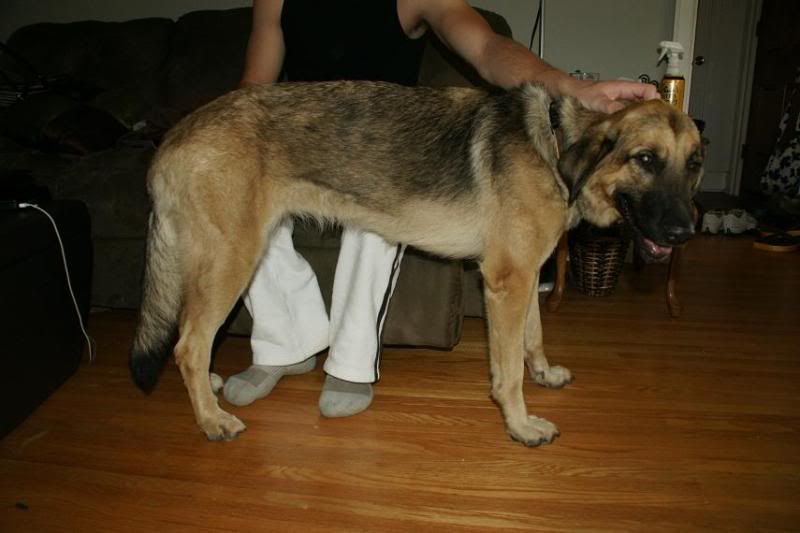 She actually looks fairly good for a shelter pup..... and I think in no time you'll have her nice and healthy.
I'm by far from a dog expert, but if I had to guess, I'd say she's a german X anatolian mix. I would NOT say she's a collie mix like the ad said (I don't see any collie at all).... definately a shepard mix, with more emphasis on the anatolian rather than german...
Just IMO
She is a beauty tho, and I can't wait to see her in a months time of love, care and her new family
The difference will be amazing I imagine. It will be so nice to see her with relaxed tail and perky ears..... (you can see she's timid by her posture....poor baby. I'm glad she found you)