If this is the wrong forum, please feel free to move it thanks
I was having trouble with my dogs eating Amadeus food, ergo not being able to tell if Amadeus was finishing his bowl out or it the dogs were. I also felt that Amadeus needed some enrichment in his life, and with a bit of googling I made this and thought I would share.
It is made out of a plastic bottle, a wooden splint, one of Amadeus toy balls and a rubber band.
I have it taped to the door where his food bowl would usually be and I have his usual food bowl place beneath it. All Amadeus has to do it push the ball to release a few pieces of food at a time. I figured this would make him has to work for his food and at the same time provide him with something to work is little brain.
I just made this today and I was showing him how it works, while he was VERY interested so I feel that he'll learn to use it soon enough. Of course I can tell if he is eating or not since he cry's when he is hungry and I can measure the amount of food still in the feeder.
A diagram on the feeder.
And the feeder itself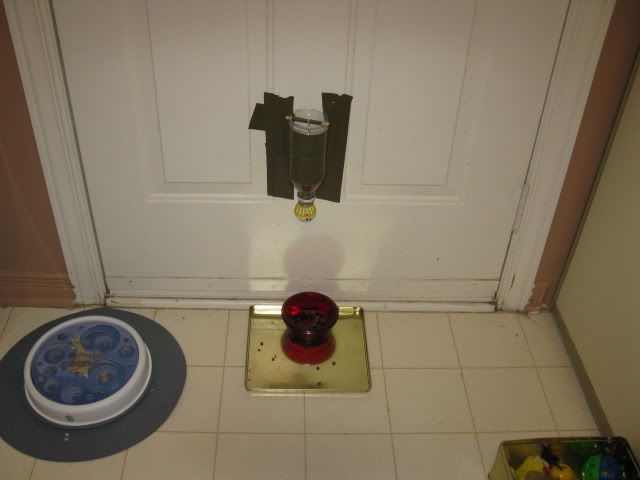 Has anybody else ever tried making their cat(s) work for food? Success? Or failure?