...Sort of anyway. I've been lurking these forums for a few weeks already, but hadn't registered due to laziness on my part, but I've finally decided to get my lazy fingers moving, so here I am~!
I'm new to cats. The most interaction I've had with cats was rescuing and adopting out a litter of kittens when I was a child, and when I went over to friends' houses, and they had cats. But I've always had a variety of other pets: turtles, fish, birds, rodents, frogs, newts and dogs. I currently have two budgies, three turtles, a pigeon, and of course my kitty.
Here's my kitty story...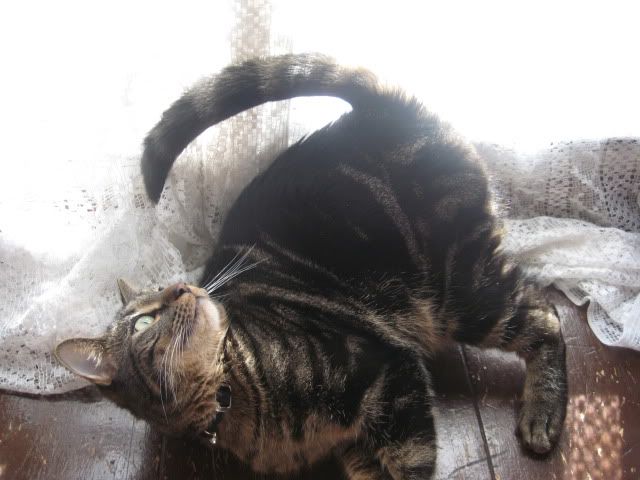 I only recently got a cat (who's sitting on my lap and resting his head on my arm, making it difficult for me to type this). To be precise, I got my three year old American Short Hair tabby only about three months ago. I didn't adopt him from a shelter, but someone I know had a friend who couldn't keep his cat anymore and so the kitty came my way. I mean, I had a zoo already, so what was one more? I didn't know anything about the cat but I didn't mind anyway. Fighting my mother (who's a BIG cat hater) tooth and nail to keep him, I managed to give him a permanent home. His previous owners named him Ame (it means 'Rain' in Japanese). Being such a temperamental cat with an attitude, I renamed him to Sho (meaning to fly or to soar, also Japanese). I thought it suited him more since he's definitely more free-spirited.
It didn't take me long to realize, "Oh crap, I'm allergic to cats." Go figure, huh? But eventually, my allergies went away in two weeks. But anytime I'm away for more than two days and return home, the allergies kick in for a few days.
Although I haven't had Sho for long, I've already spent well over $3000 on vet bills (UTI and blockage that had to get him sent to the emergency room and placed under intensive care). I don't mind, but it's been hard since I'm a poor college student.
I love my adorable furball. Although he plays a little too roughly sometimes, and pees on my bed because his bladder's inflamed, and goes through the trashcan, I still love him. If only the rest of my family could love him too...
Anyway, that's my story. =) I hope to meet more people here and learn more about my little temperamental feline.