Hello, everyone! I'm Megan, and I wanted to share with you all the kitties I cater to every week at the Fort Collins Cat Rescue in Colorado. I volunteer as an adoption counselor, a foster mom, as well as take pictures for most of the cats advertised on the website (fortcollinscatrescue.org) and on PetFinder.com. I have taken hundreds of photos to share, but I figured today I'd share some of the cats we currently have!
The shelter opened a little over three years ago, and a year later opened a low cost Spay/Neuter clinic for both cats and dogs a few doors down. Since then, over 2200 cats have been rescued, and this week marked the 10,000 spay/neuter!
I mainly post via livejournal, but I figured I'd spread out and spread the word elsewhere too!
I do want to mention that this weekend (17th and 18th) the rescue is having a Fall Cat Frenzy! All adoption donations on every single cat are 50% off! We have featured cats that will be $5, all cats (6months+) who have been there more than 30 days will be $12.50, and all other cats (and kittens!) will be $25!! Visit the website for more info if you're interested! I'll be there all weekend, and we're hoping for a crazy turnout.
Anyway, onto my main reason for posting! Photos of the kitties! All of these cats are still currently available as of today. I'm posting these as thumbnails, so click to enlarge! Enjoy!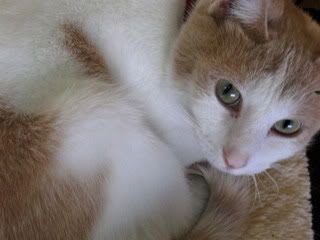 This is Naomi. She's been with us since March. Originally came with her sister, Flower. They were adopted out a couple months ago, however during their first week at their new home they escaped and got outside. Naomi was trapped two weeks later, but unfortunately we haven't to date been able to capture her sister. Naomi is shy, but sweet, and she gets along fantastically with other cats, both male and female.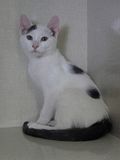 Yahtzee. He and his siblings (pictured below) are 12 weeks.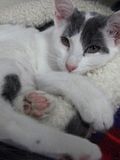 Patches. Isn't she gorgeous!?
James.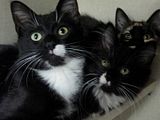 The only kitten who's name I know is the front Tuxedo, who's name is Lars.
This is Hazel. She's only a year old and came with a litter of 5 kittens! Most of them have been adopted, and the rest consolidated in with another foster litter. Hazel is super sweet.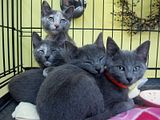 From top to bottom: Beethoven, Vivaldi, Bach, Tchaikovsky. All but Bach are girls, and Bach actually got adopted the day I took this (Sunday).
This is Finch. He came with his twin sister Raven who has since been adopted!
Cinnamon. She came with her sister Sugar as ferals, but Cinnamon has done a complete 180 and she's FANTASTIC.
Super cuddly kitten!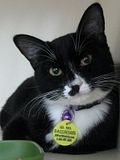 This is Cinnamon's sister, Sugar. She's still a little more shy, but I'm sure with more time she'll come around too!
This is Samantha, one of our current longest residents. She was adopted out and then returned because the woman who adopted her thought she'd trip because Sammy rubs affectionately on legs.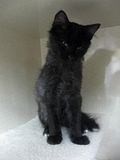 This is Max. He's 4 months old and GORGEOUS. He's got a smokey color.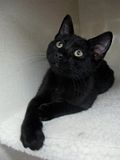 Jag, who is being fostered with Max, although they are not from the same litter.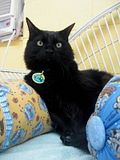 This is Lily. She's quite the talker, but LOVES to be a lap cat.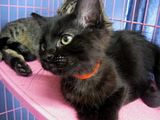 Ebony. One of Hazel's kittens.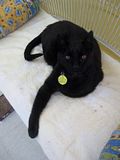 Boogaloo. He's 12 years old and was given to us from a Humane Society before he was to be put down.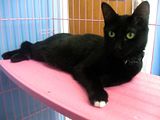 Midnight came with a bunch of kittens, all of whom have now been adopted. She's only 9 months old!!
Missy was returned when her owner decided she wanted a kitten and Missy didn't like that. Instead of keeping the cat she had had for over two years, she kept the cute and cuddly kitten. >
Mackenzie is 11 years old. She's really sweet but definitely wants to be an only cat!
Cutie Pie was found living outside. She's got a super active personality!
Rico is a gorgeous boy who's super laid back. He was surrendered when his owner moved into a home that didn't allow cats.
Celeste is a tiny cat who came super skinny nursing a litter of kittens. Her babies have all been adopted and she's been waiting a few months for a home of her own!
If you have any questions or would like to see more of a specific cat let me know!
I'm going to be running around like crazy all weekend, but I definitely plan to share many more photos!