Tuxedo was a really nasty little fella, so we TNR'd him without any plans to adopt him out or keep him. This pic was taken just shortly before he caved and gave Gary a headbump on his foot, changing everything. Look how puffed up for Winter he is!
This was taken late November 2002: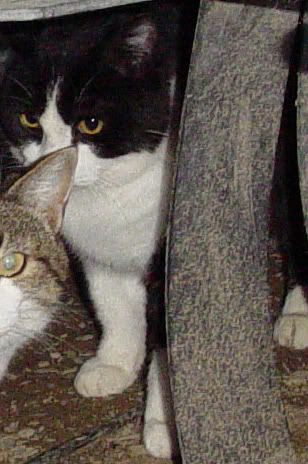 In February/March of 2003, it went to below zero for a couple of weeks in a row, and Gary was going nuts, because Tuxedo would come running every time we opened the front door - but was not staying in any of the shelters. He'd turn up with yellow fluff on him - so we were sure he was burying himself in insulation somewhere.
Finally, we couldn't take it any more, and found a new cat-only boarding facility that was empty and the owner agreed to take him - and work on socializing him. We visited frequently - at least weekly - and Tuxie started jumping straight into Gary's arms. But one day she called and said "I think there's something wrong with your cat. Every time I open the door, he runs to pee on the carpet." !!!!!!!!!!!!!!!! How long has this been going on? "About three days." We rushed over there, grabbed Tuxedo, and got him to the vet.
There he got fixed up for his UTI... but stopped eating. The vet finally said - "Gary, this cat has obviously bonded to you. If you want him to live, you have to take him home."
Well - we were scared, because all of the cats we rescued/adopted, he'd beat up pretty bad. We were in the RV, so no place to separate them. But what choice was there? So home he came.
He was such a sick little boy.... he had no will to fight. We released him on the bed. All the kitties came through to sniff him - and that was it. It was like he'd been here all along. But he really was in such a sorry state.
This was taken on his first day home (April 2003):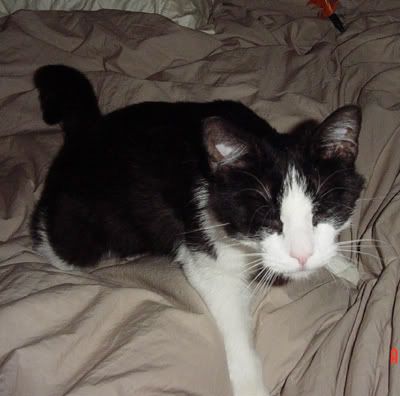 ...but it didn't take long to fluff him back up!