Sebastian crossed the bridge about 24 hours ago. He was a beautiful guy, inside and out. He loved me so much. I will never understand what it was - perhaps he was just my soul-kitty.
He seemed to be breathing deeply a few times over the past few days but not for long before he was back to normal. When I came home from work last night, he was breathing open-mouthed and his sides were working rapidly. I came here but couldn't find anything. By the time I called the emergency vet and picked up my mom, it was too late.
He died in the carrier halfway there. I so did not want that for him. He hated the carrier with a passion and that is where I put him to die. He meowed at me but I just kept driving. Then there was a lot of thrashing in the carrier and he was gone. I am so angry at myself for not doing better by him. I should have waited just 20 minutes and he could have died at home instead of in the carrier. We continued on to the vet where they determined he was gone.
Dove Lewis animal hospital is amazing. I have never seen a more caring, empathetic group of people. I chose to have them cremate him and dispose of the ashes. They made a card of his pawprints for me which should come in the mail tomorrow.
There is such an emptiness here without him. The pillow next to me on the bed is empty. His fur is still all over his chair. I don't want to clean it off. Galahad misses him. Daphne looks for him. I put wet food down this morning and no one ate it. His blue jar he drinks from wasn't touched.
I even took a short movie of his erratic breathing the night before last thinking I could show his vet. That night his breathing returned to normal and he ate his snacks though not with as much gusto. He still played a bit with Galahad.
I so wish his end could have been different, that I could have known and paid more attention. For 13 years of love, he deserved so much better.
He was about 14 years old and FIV+. Last November 17th, I took him to the vet which began 11 months of medications, fluids, tests. We only ever figured out it was liver issues and possibly cancer. No one knows exactly what.
He was such a lover boy. My honey bear, snoogy woogy, sweetie bear. He chose me 13 years ago - moved in to my bed and my heart and he never left.
I love you baby boy. I hope there is a rainbow bridge where you can play happily with all the others who have gone before. No more pain, chasing the girls and making them yell. Nipping at their hindquarters and then grinning - I just know you laughed when they yelled. You were a brat and a charmer. You were so sweet and loving with the kittens - no one could have asked for a better big brother/daddy than you.
I should have cuddled with you more, let you lay on my chest more. Less computer, more cuddles. I should have scratched your ears more. I should have just done more.
Your beautiful blue, slightly crossed eyes were filming over as I held you last night to say goodbye. Your fur still soft, your paws still so sweet and perfect. I didn't want to say goodbye - not like this. I am so sorry. So very sorry.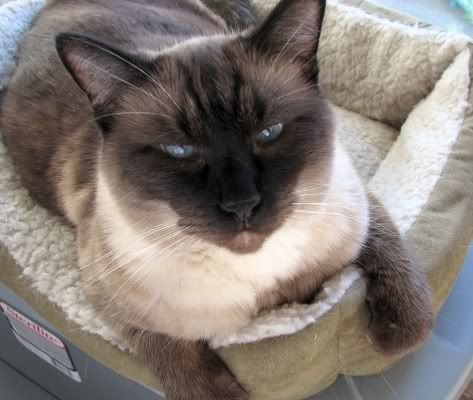 March 2007