It's been a little over a year since my cat Bear got blocked and rushed to the e-vet/had P.U. surgery.
It was a feat upon itself to get my mom to take us to the e-vet, I was 19 then. She did not think it was an emergency, I knew he was blocked - I've researched crystals far too much. This was 11pm. He had all of the symptoms: Constantly in/out littler box, screaming when I touched his abdomen, crying, ect. He was so pitiful, I was crying begging my mom to go, and I rarely cry - when I do it's not in front of people.
It took me calling my grandma (pet expert,lol), and putting her on the phone with my mom, in order to get my mom to take me. She told my mom "go to the vet asap, SPEED!" Had my mom realized that it was an emergency, she would have when without being persuaded - she just thought that we could go when the regular vet opened in the a.m.
We rushed to the e-vet, mom still wasn't convinced that this wasn't that serious. Got there, long story short, I had to convince the stupid techs there (vet was in the back) that my cat needed to be seen NOW! Why is it that Adults don't believe younger people, even when we are right? Vet tech thought the problem was litter that was on his privates... I almost lost it with her. I was like "He is BLOCKED, the litter wasn't there earlier, just trust me - he does not cry, EVER. He is in TERRIBLE pain!" She quit asking me stupid questions about "how many pets, DOB, breed, vets name, is he neutered." That crap could wait, I could fill out papers while the vet checked him, they needed to take care of him asap. She was a jerk before I got rude with her.
The vet (who was also stupid, and hateful too) took her time getting to Bear, we waited for 2 HOURS before the vet called us back. I was so MAD, my baby was crying the whole time - I had never heard him cry before (and he hasn't cried since). The whole staff was in the back with a dog that had eaten mushrooms, who was not showing any symptoms, they sent him home before they took us in.
Long story short, we opted for them to drain off the urine and sedate him (instead of them keeping him for a few hours hooked on a catheter for a few hours, until my vet opened) so we could take him to our regular vet at 8am(we got out of the e-vet at 2am). I was not leaving my baby with those morons, who knows what would have happened. So I had to sign this nasty document stating that I was "removing the patient, and refusing the preferred method of treatment by Dr.Stupid." It made me sound like a horrible person.
They sedated him, ran a needle through his tummy into his bladder and removed a massive amount of urine/blood (128CCs, vet was shocked) and sent him home @ 2am, he was supposed to remain sedated the whole time, they said. He was half way awake by the time we got home. We took him to our vet @ 8am. They took us straight to the back and started working on him. They put the catheter in him for days, took it out & he blocked. Tried agian for a few days, took it out & he blocked again.
He had to have this awful surgery called Perineal Urethrostomy (P/U surgery). Where they basically gave him the anatomy of a female cat, so he could pass crystals better. Males have a very small opening compared to females. Here is info about the surgery:
Perineal Urethrostomy
He recovered, and has been great since! I love my baby boy!
Bear after surgery a year ago. (excuse the blood on his collar-he came home that way):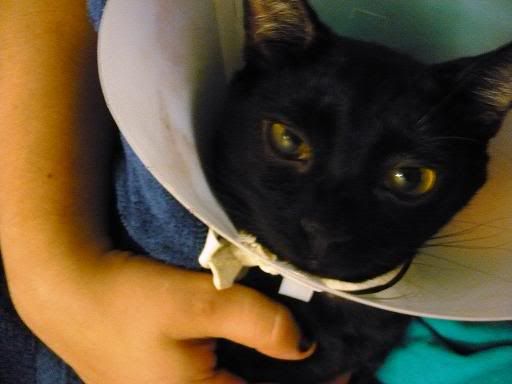 Recent pics of him:
I am so proud of him, he was a trooper through the ordeal, all the vets told me how well behaved he is.