Mr. Underfoot
3-19-94 to 9-2-2009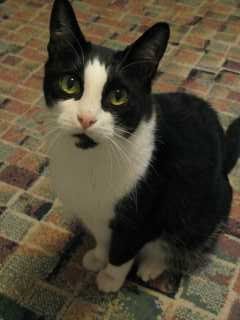 Earlier this month I had to say goodbye to the sweetest, most loving, huggable, goofy, adorable and affectionate cat I've ever known. I miss him so much.
He'd seemed fine, but cancer was silently destroying his kidneys. The symptoms came on quite suddenly. He fell noticeably ill the same day I came home from the hospital with our new baby. The news of his diagnosis broke my heart. It was a time of extreme mixed emotions - the great joy of our new daughter, and the great pain of the loss of my favorite cat. He would have been so good with our baby. He wasn't nervous of her at all, and went right up to snuggle with us even though he wasn't feeling well. He was such a special cat. Taking him for that final trip over the Bridge was one of the hardest things I've ever had to do.
I'll remember him in happier days - following me everywhere like a puppy, purring loudly whenever I even so much as looked at him, always happy to be cuddled, snuggling under the covers with me, always persistently climbing into my lap, onto my shoulders, and into my arms (even leaping right into them when he was younger!), wrestling with Oreo, snuggling with Sylvestra, sampling unattended drinks by sticking his paw in the glass, opening closed doors and cabinets, raiding the cupboards, and always looking at me with unconditional love and trust.
I'll miss you, sweet boy.
I hope there are lots of snuggles, pets, and treats for you over the Rainbow Bridge.