Good morning my friends!..
We got a little sorprise to TCS....!
HORATIO
was dropped on August 14/2009 my friends,...
saddly my property has a wall around 2 metters of higth....SOME STUPID people (what happen in this world?...
...)find easy drop a little kitten of 3 months old in another place.....(just for the grace of GOD didn´t have a broken bone with the fall...
...)........that day I went to work and on the night we heard the shame lamments of him in the yard of front of home...Take a lamp to find what happen and voila!..
he was in hissing to me!...
..........that night was isolate out of home with milk wait to the next day for a VET visit of course, I call to my Vet and Horatio spend a week in the VET hostage under observation my friend,....
OF COURSE, I can´t introduce a new kitty even he´s very small to my home in order to preserve the great enviroment that Catulina & Milky have created......after the vet visit he´s isolate in a room, the same room where catulina spend lots of weeks meanwhile Milky understand that will be another cat here,...same procediment are we doing right now with Horatio,....My Wife & I talk about it and maybe for sure we going to take him..
is a little cherub!
HE´s very FINE right now!...
he drink milk yet, and of course dry and wet food for kittens...run as a Devil and jump as hight as he can,.. chasing imaginarie friends!
.....
Ladies & Gentlemans please say Hello to Horatio!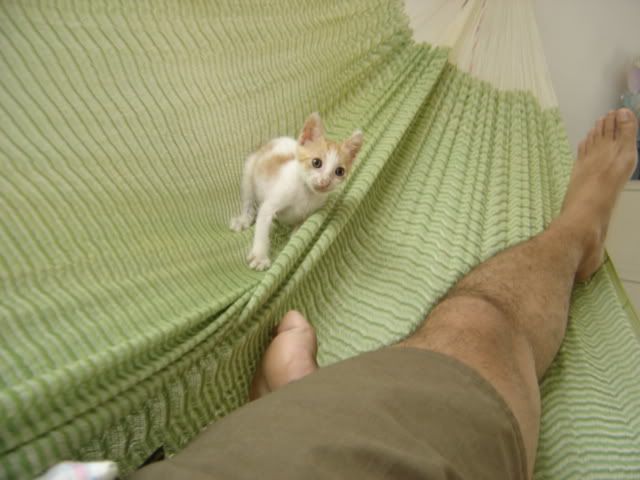 Please don´t see my fur-legs...
my cerum of depilate was over....
......