Forgive me if there is already a thread on this topic, but I did search and could not find one for people showing off their ink....
So as someone who stopped counting her tattoos once she got into hourly work, I bring to you the Show off Your Ink thread.
Lets see em.... good, bad, ugly..... go for it... Post their stories if you so choose.
Personally I have:
both ankles
working on a full leg (right leg)
both biceps
left breast
working on a full back
My very first tattoo: I got at the age of 19, shortly after having my daughter. It is a 2" baby bottle with her name on it, on my ankle.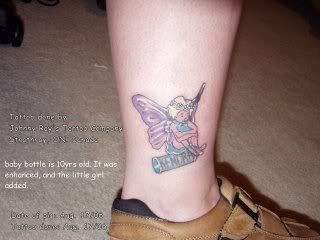 (just the bottle was my first tattoo. I added the little girl yrs later. I have the matching girl on my other ankle with my other daughters name on it. Both my kids got to chose the colour of dresses "their" girls are wearing
)
Here is my other ankle: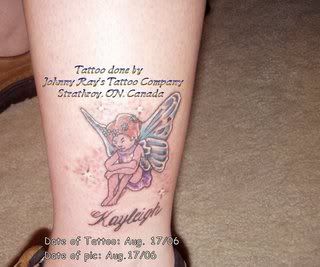 Out of all my work, I do have 1 that I regret. It is my second tattoo, and I picked it out of some flash designs and had limited funds....(in my early 20's)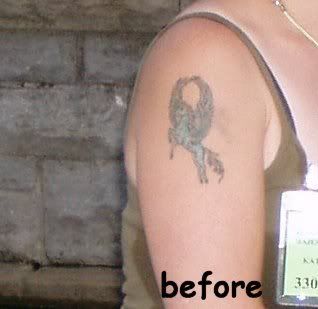 I love the subject matter, but didn't like how it looked.
So I got my current artist to enhance it.
First enhancement: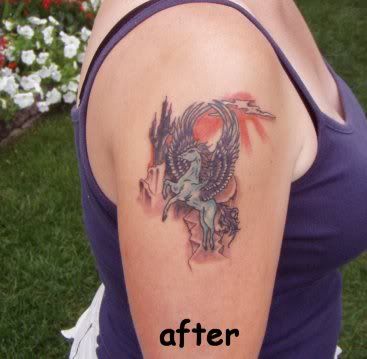 Second enhancement:
I do not have a good picture of... but we added a wizard, and more background work to it. You can't see detail in this pic, but you can see how much of my arm it covers now:
I'll try to get one of my kids to take better pics tomorrow, and I'll post the rest.
I'm looking for suggestions on the rest of my back piece too
It's been way too long since I've gotten any work done, and I'm aching to go get some more work on my back done.... finish the one outlining part and start some colouring on the section we have almost done... Unfortunately, I need/want to lose the weight I've gained since starting it, prior to getting more done on it.