I'm in desperate need of some help in my living room, does anyone have a good resource for home decorating help?
Or if you're really brave want to have a crack at it?
No furniture: (that box in the corner are stairs, oops!)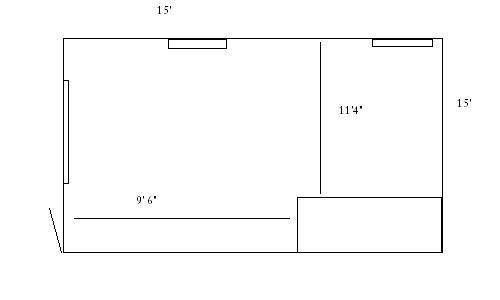 With furniture: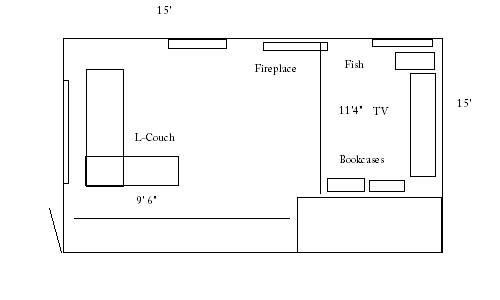 It's an odd shape, bad size with old & over-sized furniture. Neither myself or my husband can stand to be in there but it's where all of DS' toys are so we don't have much of a choice some evenings! The toys have been corralled into some large (UGLY) storage bins, he's got enough toys for an entire playgroup* most of which are VERY large and brightly coloured - THANKS GRANDMA!!!
. Our house is VERY small so they don't have anywhere else to go.
*I learned a VERY valuable lesson about telling people you're having your first child & would love any hand-me downs...
The colour is sort of a brown meets gray (I know, descriptive), I can't get a photo of it that accurately shows the colour. The windows all have off-white shears, the couch has a creamy coloured covered* so the entire room is very soft & warm. We find allot of our guests actually start to fall asleep when they curl up in the big-armed couch!
So either our entertaining is really boring or I achieved the feel I wanted for the room. Warm & cosy.
*I'm looking for some lessons about how to re-upholster a couch, it's a very nice couch but the dogs have riped it to bits. It was also expensive enough at one time (we got it for free) that it would be worth doing the work on it. I know, it's a big undertaking.
The floor is a blue-gray colour because it's high-traffic carpeting
(a necessity in any rental unit!) it needs to be replaced but I doubt we'll ever get around to it, I just ignore it. There is a cream-coloured area rug in the middle of the living room that stretches from the couch to the wall-unit.
I'd love to get rid of the wall-unit but I can't because our TV is not large enough for a small stand. I've tried to convince hubby he needs to do a built-in book shelf but we rent so he doesn't want to put that much work in. It's big & dark brown & I HATE IT, but he refuses to paint it because of the amount of work that would be involved & the fact we kinda need to get some other stuff done around the house first (I have to concur on that one).
There is a stove pipe where the bookshelves are, and they are screwed into the wall - so they can't really move. I need ANOTHER one, but I'm hoping once we finally finish the hallway upstairs I'll have a bookshelf up there.
With the L-couch the L part comes apart into two separate chairs so the couch can form a U but that is very uncomfortable. I don't mind using the couch on it's own but I have NO where to store the other two chairs and I don't want to throw them out... yadda, yadda, yadda. Because one of the chairs has no arms and the other only has one (so when you put them together they are an L with the couch) they are very uncomfortable on their own.
Hubby wants to be closer to the TV because right now were are really far away from what was a normal sized TV just a few years ago! However if we move the TV to where the bookcases are and the couch across from it you are way to close.
The fireplace is electric & can move anywhere in that room.
I'm hopelessly stuck on this room! We're Reno-ing the entire house, we get money off our rent for all the work, so it's been allot of fun doing my very first home
. The kitchen, bedrooms & dining room are all coming along REALLY nicely and are a VAST improvement over the pink on pink with flowery wallpaper walls we moved into (don't get me started)...
We are on a super-tight budget and since we both have been able to scrounge up our furniture for free or almost, I'd really like to keep on that trend!
I know pictures would be more helpful but I'm far too embarrassed!!
Please help, I'm nesting like crazy and I need to channel it into some good directions before I get destructive
.