Hi there. I'm a college student in Michigan and I recently took in the cutest little tomcat. I named him 'Alister'!
My friend's mother found him (and his sisters) under a bush in her backyard. Their mother is a gorgeous white semi-feral cat. She wanders the neighborhood and everyone feeds her and she lets people pet her sometimes.
We recently put up the money and got her fixed. We still let her roam free though! She seems happier that way and she's always around.
Anyway, since my friend has three kitties already, I decided to take the only boy of the litter. He's suuuper loving and so very cute. He was also the only striped kitten. His sisters were all black or all white.
Here are some pictures!: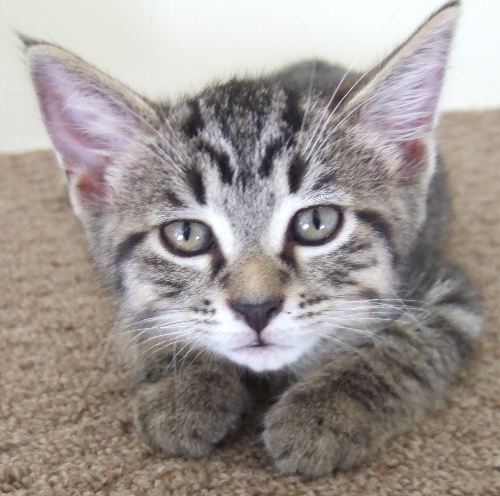 Look at the ends of his ears! Bobcat tufts! So cute!
This collar has a pink bow-tie and it's so adorable. There was a bell on it but he didn't like the jingling at all, haha.
He chooses the weirdest places to nap. Under my shirt, on my foot or here, on my keyboard.
He's such an odd little guy but I'm totally in love.
I do have some questions though.
When is the best time to neuter? And why? A friend told me 6-7 months is a good time to aim for (he's about four months old now). Suggestions?
Also, what are products you use to cut nails? Grooming tools (brushes, etc)?
PS: Excuse any errors. Alister is sitting on my keyboard and rolling over my fingers as I type. He's too cute for me to resist :[