Yesterday I was at the barn and I saw this kitty that I had never seen before. So I went up to it and it practically jumped into my arms!!! The kitty was sooooo friendly, licking me all over, rubbing up against my head, purring and get this....let me hold it while I walked around!!! He loves to be held! Well I came out there this morning and there he was!! So I picked my little guy up and took him with me to do my horses, he didnt squirm or get anxious, he really really loves being held! I will admit it was love at first site, I was like I have to take him home! I called my dad and begged him!! He wasnt thrilled about it because well we have 6 cats as it is...and he hates the kitty litter boxes!! So i told him I would pay to neuter him and first round of shots. I was going to wait a few days to think about it. But something came over me and I knew I had to take him!! He did not belong as a barn cat! Plus the barn owner said he was going to be taken to the pound
. So I was like well he is coming with me!!! I brought him home and my parents arent too mad at me!!! He is such a doll! But I have to keep him away from Kamie until he gets fixed and her too, she is going on tuesday but I need to call HOPE foundation to see if I can bring my new guy in.
OK so I named him Murphee.....but Im not sure about it. any thoughts on a new name???
Barn pics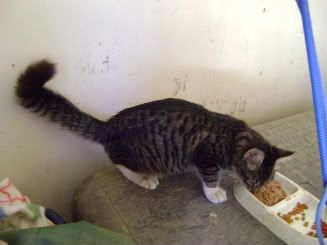 At his new home