So, we finally bought our own
first
house and Kitters has gotten an upgrade in space!
This thread
will catch you up on it. I will keep adding, as I will take TONS of pics of my little baby!
Ok, here is Kitters playin' in the new house!!!!
(All the photos are clickable thumbnails!)
Pardon the stuff in the background (we're not all done yet!)
This is the first time she would play!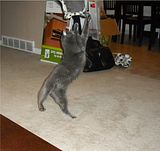 And she LOVED the balls I got out for her!!!!
And here she is after she found the front window... and she looks all cute too!