Hi everyone,
I have had cats and kittens my entire life (couldn't live without them), but back in April my husband and I brought home our very first Russian Blue kitten. We named him Eddie and he is now just over 5 months old. He is absolutely adorable and we love him so much, but I have some questions about his behavior. I have never in my life ever had or seen a kitten as hyper as he is! It's almost as if he never sleeps! He gets into EVERYTHING and always finds a way to make a mess and get into trouble! We can't even eat in peace with him around because he will jump in our laps and try to steal our food from us and howl very loudly if we don't share with him. (He has an almost Siamese-like meow.) The other day, I had a foot-long Subway sub on our kitchen island and, when I wasn't looking, Eddie jumped up there and dragged the thing all the way into our bedroom and up onto our bed and was trying to tear the bag apart to get at it! He has even figured out how to open kitchen cabinets and get inside of them, turn on the faucet in the bathroom and sit in the sink with the water running, jumps in the shower/bathtub while we're in it, drags toilet paper off the roll and puts it all over the house, tries to eat the dog food, runs so fast down the hall that he slams face first into the wall and then turns around and does it again, sits in hallway in the middle of the night and meows as loud as he possibly can, splashes around in the water dish and gets it all over the floor, goes in the litter box just to play and throw litter all over the place, sits on top of the litter box and torments the other cats while they're trying to do their business, and climbs everything. He even walked right across the hot stove about a month ago and it didn't seem to phase him one bit! Even at his little size, this kitten can jump VERY high! (He has huge hind feet.) In fact, I was walking into the kitchen tonight and he pretty much came out of nowhere and jumped right over me(I'm about 5'5") and up onto the top of the refrigerator. I was totally in shock that he jumped about 6 feet!
He also plays pretty roughly with our other 3 cats (ages 2, 4, and 6) and I think he's driving them crazy! He will literally pounce right on top of them while they're sleeping and try to get them to wrestle with him, but he is very gentle with our 2 big dogs (1-year-old Golden Retriever and 10-year-old German Shepherd). We try to hold him and snuggle with him, but he just so squirmy and won't stay still! Is this seemingly hyperactive/crazy behavior breed specific to a Russian Blue kitten? Like I said, he is my first Russian Blue cat and none of my other cats were nearly this high strung as kittens, and I have had cats since the day I was born! It seems like every 5 minutes, someone in this house is saying, "Eddie! NO! Eddie! Stop that! Eddie! Get out of there! Get down, Eddie! Eddie! Put that down! EDDIE!!!!!"
A rare moment of good behavior!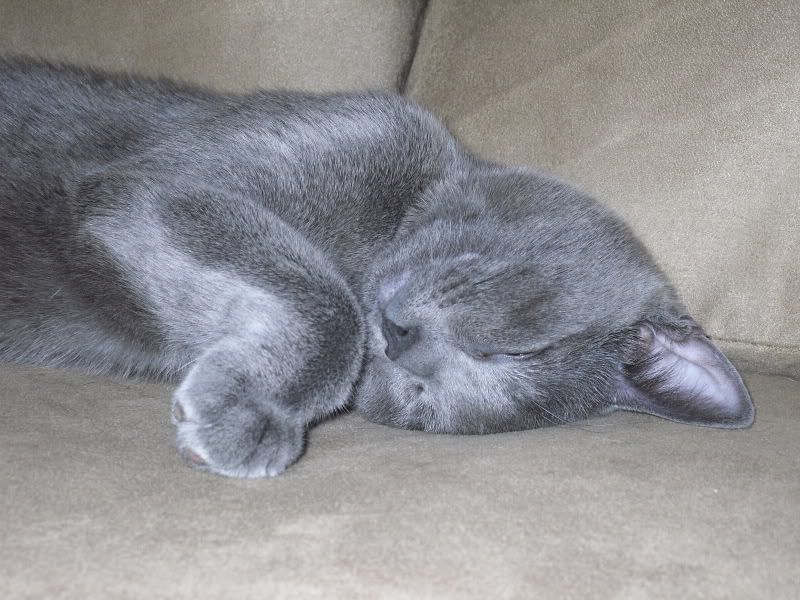 I thought this caption was appropriate.