Fifteen years ago, right about now a three-way love affair was started. Charlie and I had adoped Rusty in March, and were looking for a female to breed him with. We met up with a lady whose kittens were not old enough yet to sell, but she let us see them, and pick one for buying later. There were four of them, but the smallest of the litter was the most rowdy, a tiny little tortie point who promptly bit me, lol!
She was to be my cat, since Rusty was Charlie's.....but they had other ideas...Rusty became mine, and she became "Daddy's little princess". She grew to be one of the sweetest cats you'd know, talkative.....didn't mind telling you what was on her mind at any given time.
There are things I know I'll never forget...Charlie rubbing her belly while she gave birth (he started it with the first batch and she expected it from then on!). We brought Big Blue in as a 16 week old kitten, to swap up the breeding.....and she almost killed him! She jumped him one night, scaring him so badly that he crapped all over both of them....was funny, after the bathing was done.
She loved anything mint.....you could put a mint candy in your mouth for a few minutes, pick her up and breathe into her face....she'd stick her head in your mouth to try to get it!
I could go on forever, but if I do, I'll only start to bawl again. We lost her soulmate, Rusty in Nov. 2007, and she's never been the same since. She'd had a few seizures before, nothing regular, so the vet couldn't pinpont them, but over the last year she started having what we humans would call mini-strokes...not debilitating, but enough to change her somewhat. Last night though, she had a major one (actually about three this morning), and this one took her from us before we could get her to the vet.
Rest in peace, my sweet Baby girl, your daddy and I will miss you more than you'll ever know.....But I know that you're at the Rainbow Bridge now, reunited with Rusty, your daughter YumYum and your granddaughter Rurnt. Run free and easy like you did 15 years ago, my sweet girl.....Meowmy and Daddy love you very, very much, and will always miss you. For those who don't know, catfolks is my husband and her daddy....and I'm afraid he's taking this as badly or worse than me.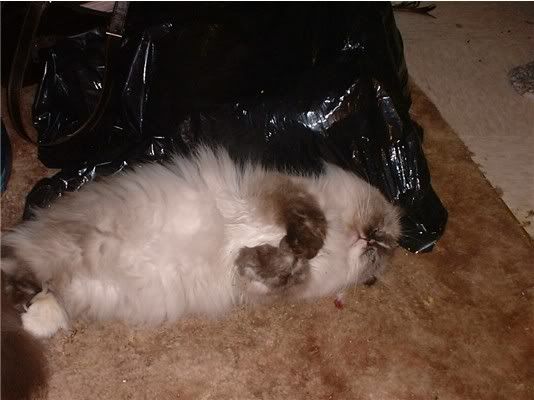 ]