So the feral mom and her kittens all disappeared after the Fourth of July (VERY noisy around here!) in 2002.... except Lazlo, who got left behind. So we brought him inside, not sure about the whole "cat" thing.
We decided to keep him, so that week, Gary called all his cat loving friends and apologized to them for ever having said anything about not liking cats.
We used to spend long days away at work.... so..... when the feral family returned from what turned out to be just an excursion.... we decided Lazlo needed a friend.
Shelly was the "tamest" of the kitties at that point (and Gary always thought he was the cutest). So this morning, seven years ago, Gary went outside, picked up Shelly, handed him through the door to me. Shelly looked up at me - realized that not only was he in my arms, he was somewhere strange - and he shot out of my arms like a rocket!
Lazlo went after the moving target.... and we had a rolling hissing ball of fur.
Gary's mom was visiting, and we had to take her to the airport. We decided they weren't actually going to kill each other, so we left. When we got back, we searched high and low and couldn't find either of them. Did they figure some way out we didn't know about?
Nope. They were asleep, curled up together, in the crate.
(We figure one of them cornered the other one in there, and they ended up just passing out - tired from fighting!).
Ahhh.... we've come such a long way.
Baby Shelly......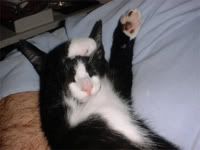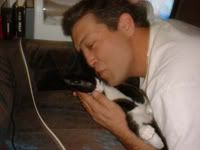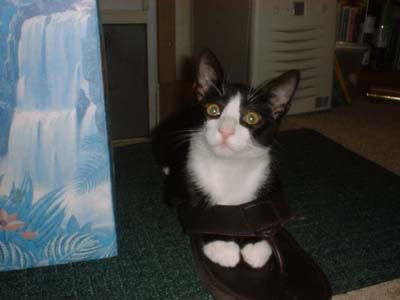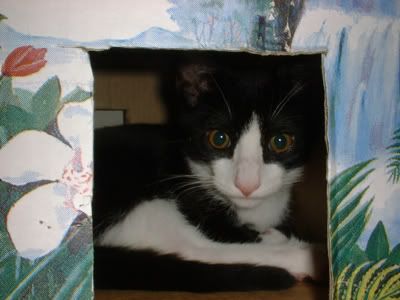 Shelly and Laz: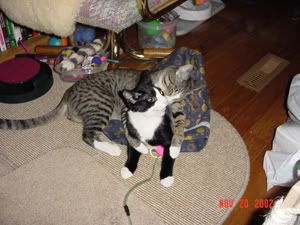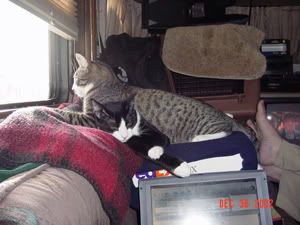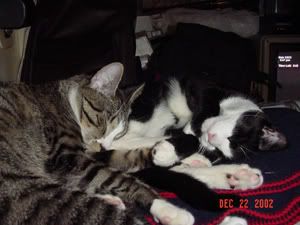 More pics to come.....
Laurie