My daughter wrote this poem, shortly after finding out that Brandy's tumor was inoperable. She had me print it out, and it is laying ontop of Brandy's body.
Title: My Furry Friend by Kendra
Brandy is as playful as a child,\t\t\t\t\t\t
She comes to me when she's called,
With spirits so high she's almost wild.
When I enter my house after a very lonely day,
She jumps while wishing for me to play.
As she hollers with such joy,
Asking me for her little tug toy,
She is my furry friend,
All the way to the very, very cold, hard end.
She is there for me when I start to cry.
If only she didn't have to go,
Unfortunately she can't say no.
She is nine,
This is old for my fine friend.
I hope she promises to wait for me,
If so I will be in so much glee!
I hope we have taken good care of you,
Or I will always be blue.
Knowing that you're in so much pain,
Makes me sick again and again.
When I let you outside you want me to play,
It's too bad you get older and older every day.
I will never forget your gold and white fur,
That was all over me everyday at school.
I love you Brandy, I love you so,
I hate how someday soon you'll have to go.
--------------------------------------------------------------------------
We are all doing ok....but there isn't a day that I don't go to say something to do with Brandy....if I drop food, there's no calling Brandy.... When the doorbell rings, the house is silent.....No asking the kids if anyone fed Brandy yet....No to alot of things.
It is amazing how much of a part of our lives she was. The little things we didn't think of.
I miss her so. We all do.
I have no doubt that the decision was right. I have no doubt that she is somewhere, wagging her fool tail off and belting someone with it. I have no doubt that her lump is gone, and she can eat as much as she wants.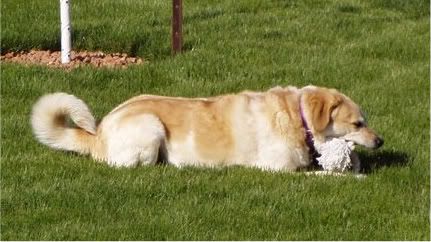 RIP Brandy: spring 1999 - July 11 2009