And another one. Back in early June, I went to my house one Friday afternoon. I was putting food out for Foster & Little Man when I heard the unmistakable cry of a tiny, frightened kitten. I went around the corner and there it was. It scrambled under my house as soon as it saw me.
I tried for about an hour to coax the little one out from under my house to no avail. I finally gave up and went back to the back porch. I was sitting on the driveway playing with Foster & Little Man with a string toy when he reappeared from under the house. He eventually walked in front of my garage and the doors were open. He slipped inside and I jumped up and shut the doors. Ha! Trapped. He lived in my garage for the next 2 weeks. These were some of the first pics I took of him.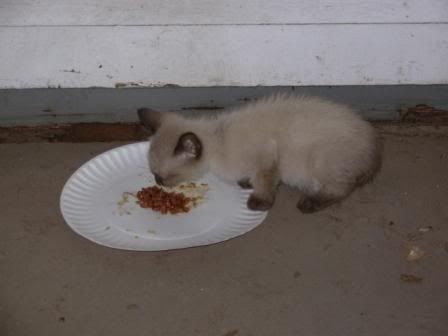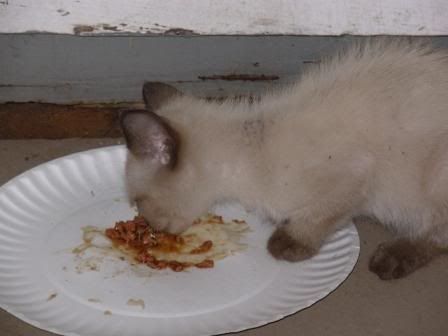 These were taken on June 20, the same day I moved him into my house (the same house that I'm still not living in yet). He is there alone. I can not take him where I am living now. So it's either in my house alone, or outside (my house is on a three-lane one-way street with 40MPH).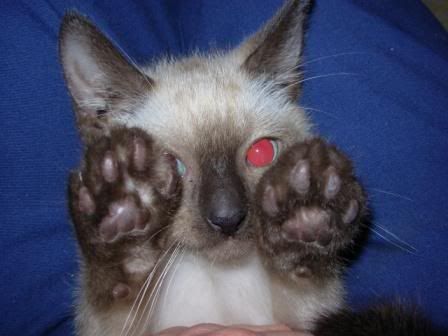 He has since been to see the vet. Well, the vet came to us. It's a mobile vet in an RV. He was tested for the whole feline luk/aids thing and that came back negative. He received his first round of kitten shots and vaccinations. The vet & his assistant knew that I had not yet decided on a name. I told them that at first I thought the kitten was a female, but that I was starting to have my doubts since I was starting to see the formation of 2 dark little circles.
The vet took a look and said, "Boy! Does he have some! I think you should name him Deuce!" I haven't decided yet, but they put that on the paperwork. I had always said when I got another male cat I wanted to name him Rhett. What do you all think? Deuce or Rhett? They guessed his age to be about 10 weeks at the time of the vet appointment. So that means about 8 weeks old when he showed up at my house.
These 2 were taken this past Thursday.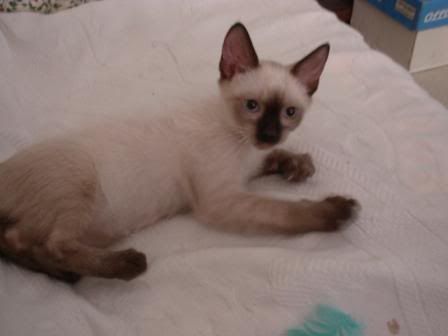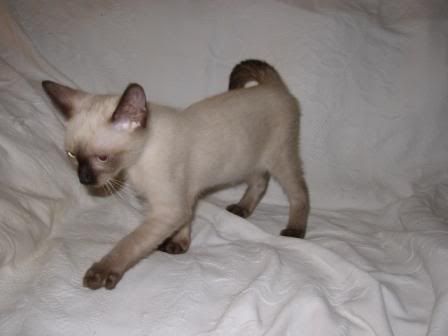 These 2 were taken yesterday, after his first bath.