Well, actually, it's Happy Belated Gotcha Day Lazlo, because seven years ago yesterday, we brought Lazlo inside. Thank goodness we had TCS to help us, because we didn't know anything about cats.
(Of course that still didn't prevent us from doing just about everything wrong
).
The earliest pic we have of Lazlo (he's the tabby):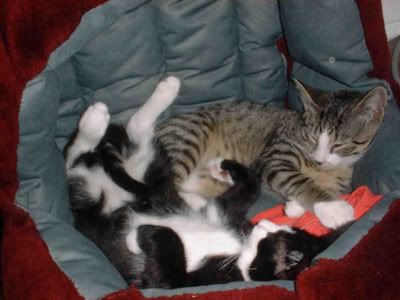 Our ferally baby boy: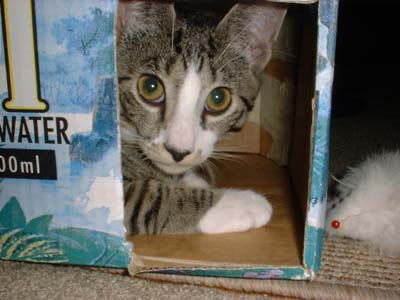 ...who loves feathers (and boxes)!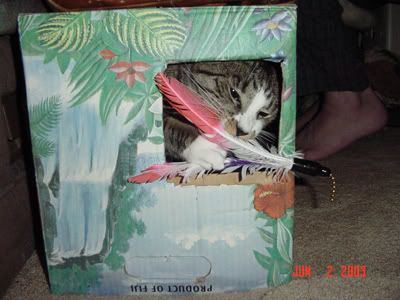 Our happy boy:
...who isn't a baby anymore!
Lazlo, we love you!!!!!!!!!!!!!!!!!!!!!!!!! As our first rescue we adopted ourselves, you changed our lives forever.
You opened your heart to so many foster kitties, and you loved them all. We're sorry we don't foster any more, because looking back through all those pictures we can see how happy they all made you.
But you're our alpha kitty now, the big brother - and though you are NOT always benevolent in ruling your domain, we love your paws and your purrs, your snuggles, your playful nature, your beautiful elegance - and the fact that you appear to communicate with aliens (although we'd prefer it if you stopped the 4:00am communications!). For quite a while we were convinced you were placed here to observe life on Earth.... and we're still pretty sure you continue those reports back!
We hope they're happy ones.
Laurie