My friend's cat was attacked by something. We don't know what. She has taken him to a vet numerous times and they're only advice right now is either steroids or PTS. I'm advising that she get a second opinion since the vet she's seeing now isn't doing crap...
I got a list of things that she's been doing so far and what's happening to the cat:
Vit E - to prevent itching. The wounds are drying up and causing rubbing and scratching.
There may be a disease that runs in the family that would be treated with steroids.
There are open sores, itching, he's pulling the hair out of his feet and the sore won't heal.
He's vomiting and dehydrated. BUT he is eating fine. I'm giving her a syringe to get water in to his system.
He's got a deformation on his lips, almost like they've melted away.
He's constantly scratching and grooming himself.
He can't wear a cone due to a wound on his neck.
*Warning! Some of the pictures are graphic*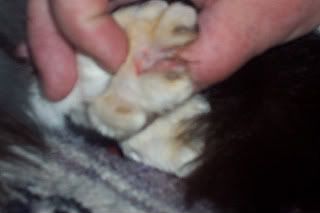 Again, she has seen a vet and I am recommending she get a second opinion. I'm giving her a syringe to get some water into him. She also gave him an antihistamine. Nothing has helped.