Hi everyone,
Last week, we heard a truck in our parking lot "meowing". It's somewhat of a regular occurrence around here. People throw kittens out of their car windows going down the highway in front of our office. We found which truck was meowing and after a short search, found a little black kitten all oily and dirty under the hood. In 95 degree heat. People can be so mean.
We brought him inside, determined that he appeared uninjured, made an emergency run to Wal Mart for food, litter, box, bowl, kitty wipes, etc., cleaned him all up, rushed him to the vet and got a clean bill of health.
Vet said he's 7 weeks old, probably weaned or close to being weaned and to start him on dry food and water.
He was lethargic for a couple days but is now happy and full of energy. He gets brushed every day. We were guided toward natural kitty litter and chose Feline Pine for his box. Seems to be doing OK so far.
We provide him with fresh water and a big bowl of kitten food (Eukanuba).
We got him a 6' tall carpeted "house" that he loves playing on and tons of toys too. Everyone just loves him.
Anyway, meet "Mr. Whiskers", our new office kitten...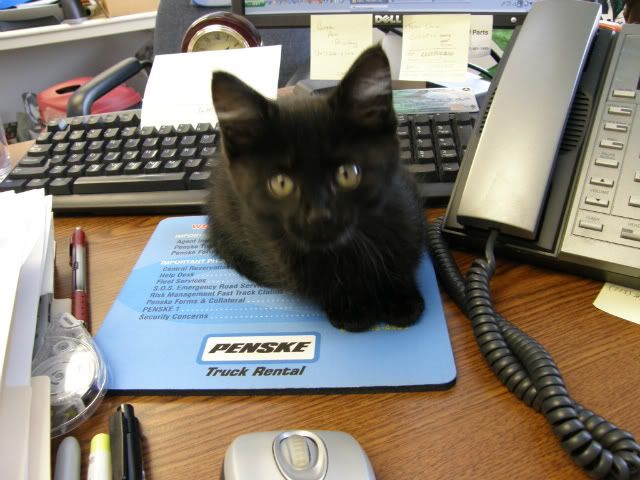 He's all black with white hairs coming out of his ears. He's truly adorable and everyone has become quite attached to the little guy. As long as he doesn't go crazy on us, I anticipate he will be spoiled rotten in no time at all.